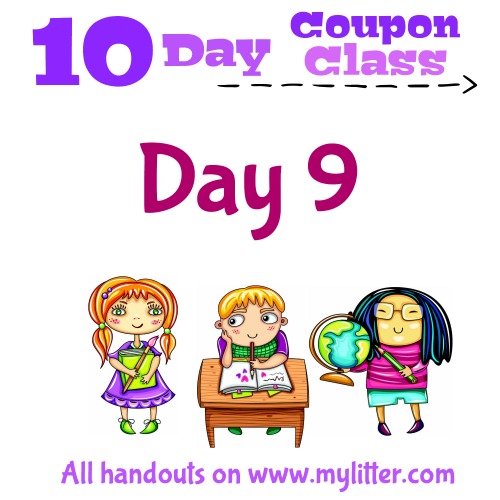 Today is a SUPER important day in our coupon class… I am going to show you and tell you about a BUNCH of resources to make your couponing life easier… from some super secret websites ( well kinds secret :)) to the best grocery App out there… You are going to learn how you can put all these deals together YOURSELF with the tools I am going to give you today! 
If you have missed any of the days, you can check them out below:
Day 1 – Getting Started
Day 2 – All about coupons
Day 3 – Organizing Coupons
Day 4 – Creating a stockpile
Day 5 – About Grocery Stores
Day 6 – CVS & Walgreens
Day 7 – Walmart
Day 8 – Target
Day 9 – Resources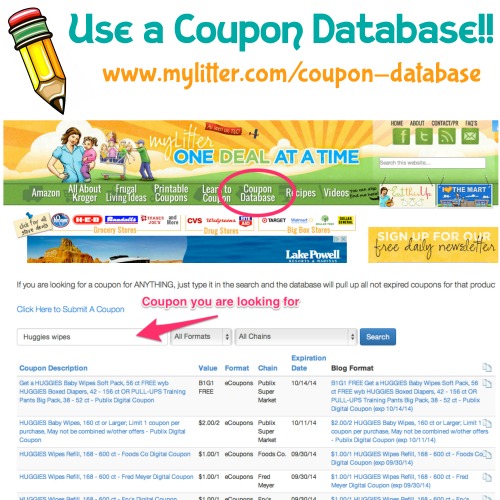 Use a Coupon Database – One of the smartest things you can do is bookmark my coupon database. A coupon database will save you a ton of time and make you look like an expert couponer. While others see a great deal and are asking "what coupon?" "where is that coupon?" you have already looked it up and are on your way to the store getting the deal, while they are still waiting for someone to answer them!
A coupon database is a HUGE database of all the current coupons for a particular item. It will tell you EXACTLY where to locate the coupon. You can even narrow it down to a specific store coupon, or  if you only want digital coupons, you can search for those as well. Like printables? Choose the "printable" from the format tab and it will only pull up printables for an item. Not all coupon databases are created the same.
There are 2 main databases that bloggers use, and one more detailed database. We have to PAY to have a database on our sites. That's right, out of the hundreds of coupon blogs, they are all using the same 2 databases, with the exception of a few bloggers. That exception is the Favado database, which is what I have. It is BY FAR the best out there and I know because I used to use the other ones. But do a test yourself… type in an item in mine and type in an item in another bloggers database. I typically have almost 50% more coupons listed in mine. Just FYI.
A database is something you can't coupon without. It is also something you need to learn to use ASAP. Bookmark my page so you can quickly pull it up at any time!!! This will change your life if you are not using one!
Use a Deal Finder – What is a deal finder?? You might not have seen this before, but it is almost like the reverse of a coupon database.
Do you see all those posts from people who post a coupon, then ask, "where can I gets  good deal on this item" and want to know the best place to use their coupon? Well, I make it super easy for you! On www.mylitter.com on the right side about half way down you will see a red box that says "Deal Finder" click on that.
Once you do, you will see a search bar, just enter the coupon or item you are looking for on sale and hit enter. The deal finder will pull up what stores have a deal that week on that item! COOL HUH?! It is so helpful, especially if I have a great coupon that is about to expire!
Make sure to tag those friends that are always asking "where do I use this coupon at?" so they know how to figure it out!
Let's talk about apps! Well, actually let's talk about ONE app, the BEST grocery app there is! You can sign up for the app in my bio.
Favado is a mobil savings app that helps you stop overspending on items you buy everyday by notifying you when they are on sale. Favado combines YOUR local grocery stores sales ad with coupons, to find you the best deal.
YOU will be able to select YOUR favorite stores to follow. For example I picked Kroger, HEB, Walmart, Target, CVS, Walgreens Trader Joes and Dollar Tree. Then I can see what the top deals are for that week or I can see the entire list, plus the coupons that matchup with that list.
1. Compare prices: Favado features sales information for favorite grocery, drug and big box chains stores that touch every corner of the country. Often two stores offer the same product on sale at the same time. Easily compare prices on specific items or categories across multiple stores at once.
2. Easy organization: Save time by building and sharing shopping lists for the week, of favorites, or those once-in-awhile stock-up items.
3. Top deals: We have partner with store experts who provide additional regional sales data to Favado. These experts pick their favorite "top deals" for the week to help shoppers save even more.
4.Personalized sales: Most people buy the same items week to week. Save your favorite products and brands to the "Faves" list to see stores offering sales on your preferred items.
5. Notifications: Hate missing a new sale? We'll send you notifications of new sales for stores you select.
6. Coupon matching: .Ever bought something to realize later you had a coupon? Combining sales and coupons is the secret weapon for a lot of shoppers. Favado lets you know when additional savings are available and where to find them.
My favorite feature is that I can email a shopping list to my husband!!
Favado is giving us an AWESOME giveaway in a little bit this afternoon, so make sure you are watching for it!!!!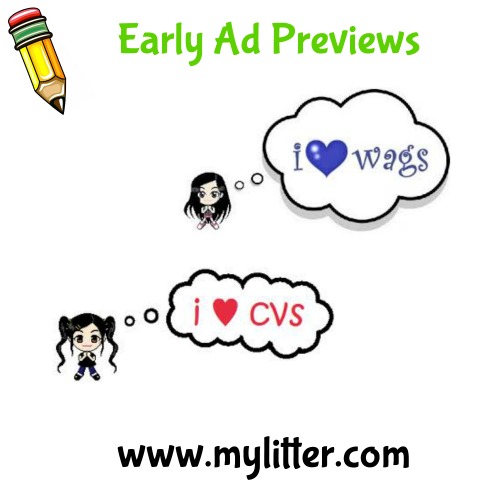 This might piss a lot of people off… but I am going to tell those of you who don't know, where you can see the early previews of the CVS and Walgreens ads.
When I first started couponing, there was no Instagram, or Facebook groups to get help from. I had to ask real live people questions and Google everything! I did happen across my favorite forum every, Hot Coupon World and it was there that I found www.iheartcvs.com and www.Iheartwags.com where you can see the upcoming ads for a few months.
Some of you might even remember when they were getting shut down for posting them…. Anyway, hope that helps!
I have a HUGE giveaway that you can enter today!! I teamed up with Favado to give away (2) $50 gift cards and a custom coupon binder!! This is only a 24 hour giveaway!!!
:: To enter ::
1. Download the Favado app, link is in my bio.
2. Tag 5 friends
3. Repost this picture and use hashtag #mylitterfavadogiveaway
Follow Favado on Facebook.com/Favado Easy peasy!!! Giveaway ends Wednesday September 10th, 9am. Giveaway winners announced 10am chosen by Random.org
So your homework for tonight…
1. Try the coupon database, pick something to search for just for fun. Even compare a few databases and see if I am right about how good mine is 🙂
2. Try the deal finder! Gran a high value coupon that is going to expire and type it in!
3. Download Favado. The link is in my bio.
4. Check out some early ads from the drug stores!
5. Enter the Giveaway!