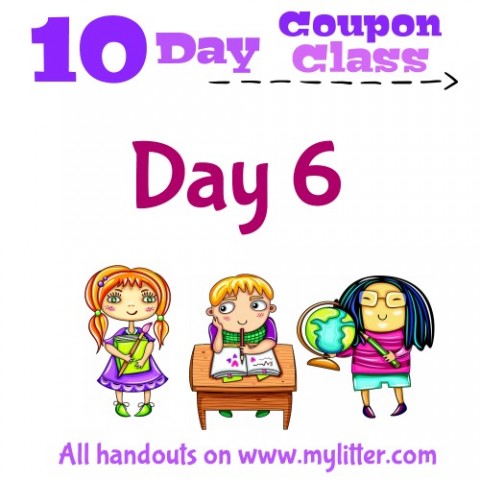 If you have missed any of the days, you can check them out:
Day 1 – Getting Started
Day 2 – All about coupons
Day 3 – Organizing Coupons
Day 4 – Creating a stockpile
Day 5 – About Grocery Stores
Day 6 is here and we will be talking about couponing at the drug stores. The 3 main drug stores with customer rewards programs are CVS, Walgreens and Rite Aid. Although I post the match ups for ALL 3 stores stores on Saturdays, we will be talking about CVS and Walgreens because I am not familiar with Rite Aid as I don't have one and have actually never been in one 🙁
CVS for me was the VERY first place I ever got anything for free, they were those nasty Soy Joy bars! I have such a love for CVS and think it is the easiest drug store to get started couponing at. It is pretty easy to understand and the cashiers are mostly helpful.
The very first thing you need to do is have a CVS card. You can get one online or right in the store and use it that day.
CVS has a customer rewards program called the Extra Care Bucks or ECB program. They reward you buy giving you ECB's back on specially marked purchases that you make. ECB's print out on the bottom of your receipt, they are like cash or a gift card so don't loose them.
ECB's can not be used on alcohol, tobacco, or on prescriptions. They can be used on everything else in the store. You also earn back 2% quarterly of everything that you spend pre-coupons in the store.
The first thing to do when you walk into the store is scan your CVS card at the red box that looks like a price scanner, well, it is also a price scanner. CVS has it's own store coupons and they will print from there. You want these because they can be combined with manufacturer coupons for an even better deal.
Now you start shopping, take a look at the add and find the items that give you ECB's back. Then find coupons that can be used along with these sales. OR, check my blog on Saturday mornings and I do the match-ups for you! There are limits on the deals so pay attention to that, or  you won't get the ECB's back if you buy too many. You also can not use another persons ECB's on your purchases, they are tied to your card only. The bottom of your receipt will keep track of your purchases and your limits for you.
To make the most of your trip you will want to make a few transactions. Yes, you will actually place sometimes on the counter, pay for them and then right then do another transaction. I will either tell them I am making multiple transactions, or if it is busy I will go tot the back of the line and wait my turn again. The reason that I am doing this is because I am "rolling" my ECB's onto the next purchase to help pay for part of it.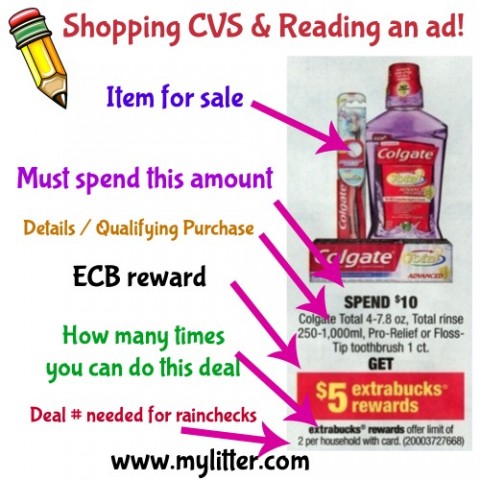 How Deals Will Look On Blogs for CVS
Buy 1 Crest Pro-Health Toothpaste, Rinse, or Oral B Floss at $2.99, Get $2 ECBs (Limit 1)
Use $0.50/1 coupon from the 6/7 P&G insert
Total: $0.49 after coupon and ECBs
In the instance above, you'll spend $2.49 plus tax out of pocket, if you have the coupon. After you checkout, an ECB for $2 will be on the bottom of your receipt that you can use on your next order. Now, since this is only a limit of 1, you cannot buy this deal again and have the ECBs print out.
Buy 1 Schick Quattro Titanium Razor or Trimmer at $7.99, Get $3 ECBs (Limit 3)
Use $4/1 coupon from the 4/19 RedPlum insert
Total: $0.99 after coupon and ECBs
In the instance above, you'll spend $3.99 out of pocket, if you have the coupon. After you checkout, an ECB for $4 will be on the bottom of your receipt. Since this deal is a limit of 3, you could do this deal two more times and ECBs will print out. If you did the Crest deal before this one, you could have used the $2 ECB on this order, making your total out of pocket only $1.99 plus tax. This is called "Rolling ECBs."
CVS is really fun to shop at when you get the hang of it! Don't give up and start small. The very first time you go just purchase 1 thing that gives you ECB's back. Then try a little more the next week.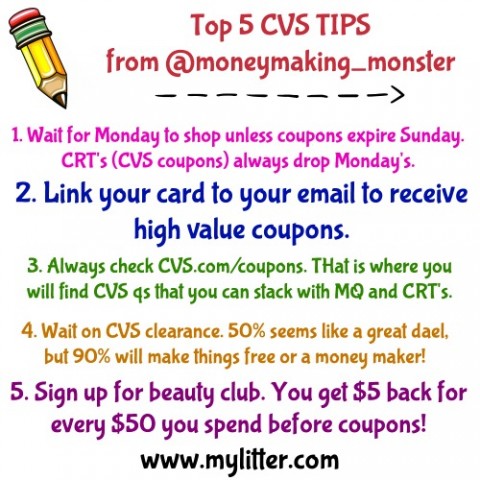 One of my best tips is to follow someone who shops the store well! One of my favorite CVS shoppers is @moneymaking_monster she posts awesome scenarios and knows what she is talking about! Make sure you are following her! There are a few more things you need to know when shopping at CVS:
You need to get to 98% of the value of the item to get the ECB, for example if you are at $19.95 and you had to get to $20 to get a $5 ECB you would get the ECB because you were at more then 98%. If you were at $19, you would NOT get the $5 ECB without spending a little more money.
2 coupons can be used on a BOGO sale.
Sign up for the CVS newsletter and get a $4/20 coupon.
Always check the "red magic coupon machine" to see what coupons you will get that day
Hand over coupons in the following order: $/$$ first ( money off) store coupons, manufacturer coupons, then ECB
Sign up for the CVS Beauty Program you will get: 10% off beauty pass, $5 ECB for every $50 you spend BEFORE coupons, $3 ECB on your birthday, Free to join, get exclusive coupons first!
ALWAYS ask for rain checks if the item you want is sold out!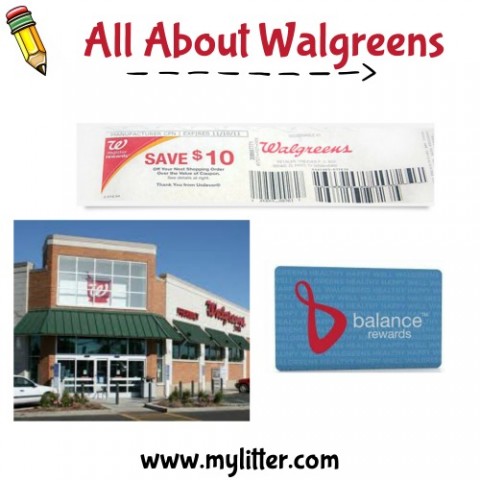 At Walgreens I have scored some AMAZING deals. But to be honest it can be a little more than frustrating and CVS is much easier. If you are new I always suggest starting at CVS and once you have the hang of that, then try Walgreens. BUT, I have a ton of friends and readers who score AWESOME hauls at Walgreens!
Walgreens has a customer care program that they call Register Rewards, they also have the Balance Rewards Points program that started last fall.  You will need to get a points card, and you can register for that online at Walgreens.com. Register Rewards (RR) print out like catalina coupons when you get your receipt. Here are some things you need to know:
You need to spend more than the value of the RR. For example, if you have a $10RR, you'd need to spend at least $10.01 when you checkout.
Some exclusions do apply, such as they can't be used on gift cards, stamps, alcohol, etc.
Some RRs will roll, some will not. By rolling, this means you can repeat the same transaction over and over and another RR will print. Usually, you can only use one from the same manufacturer. In those cases, if you were to do the same transaction again, an RR wouldn't print.
An RR is considered a coupon. When you check-out, you must have as many items as you do coupons. So if you are "stacking" coupons and have two for any particular item, you must make sure that you have another item that doesn't have a coupon in order to use it. Also, since they are considered to be coupons, when Walgreens puts out one of their $$ off coupons, such as their "$5 off $25 purchase coupons," the amount of the RR must be discounted before the $25 total.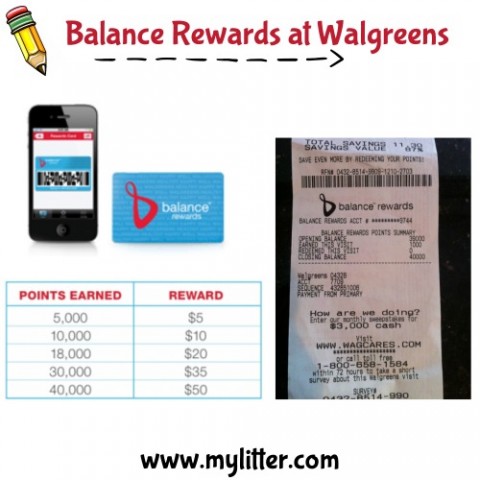 You will need to sign up and create an account to get your card. This will be needed to track your points and to redeem them.
FEATURES AND BENEFITS
Customers can join in one easy step in stores at checkout or any photo kiosk, online at walgreens.com/balance or with their mobile devices and begin earning points immediately for their purchases.
Members receive exclusive savings every week on popular products.
Savings and points can be easily earned when members show their Balance Rewards card, provide their telephone number or scan their mobile phone.
Members can easily access their point totals and see how many points they need until their next reward at checkout, online or through their mobile device.
Just be sure to redeem Balance Rewards points on a transaction where you are not expecting to earn more BR points. 
When you buy an item at Walgreens where you earn points, those points show up immediately on the bottom of the receipt from that transaction. Look for "earned this visit".
Instant Points
Members can instantly earn and redeem points for thousands of items in store and online.1
Members will earn points for activities that help them stay well, like Walk with Walgreens, immunizations and — where states allow — for RX.2
Members receive exclusive access to the Walgreens online Pharmacy Chat service, 24 hours a day, 7 days a week, 365 days a year.
Endless Rewards
Members can redeem points immediately in-store or online for a little something special or hold off until they have earned more points for an even greater reward.
Points will not expire as long as members remain active by shopping at Walgreens at least once every six months and redeem their points within three years.
Points go further as you earn more.
If you were expecting points but didn't earn them, ask the cashier immediately. If you bought the wrong size, color, flavor, or fragrance of the item and therefore didn't earn the points you can return the item and purchase the correct one.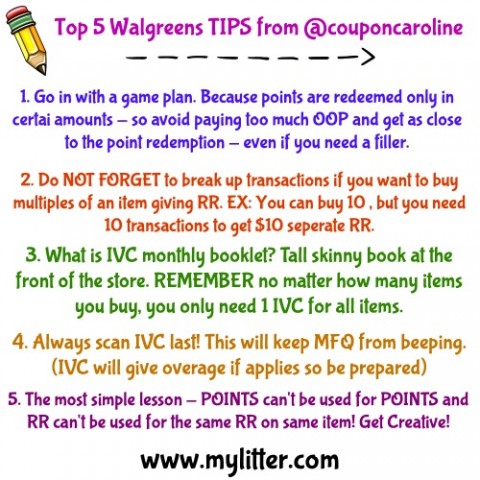 For me there is a LOT to learn at Walgreens. Make sure to use Google, You Tube and follow awesome Walgreens people like @couponcaroline (on Instagram) for help! < ——- Follow her! Couponing with a buddy is the easiest way to get good and understand the rules. Ask questions, but the more work you do yourself the better you will understand it and the faster you will get the best deals!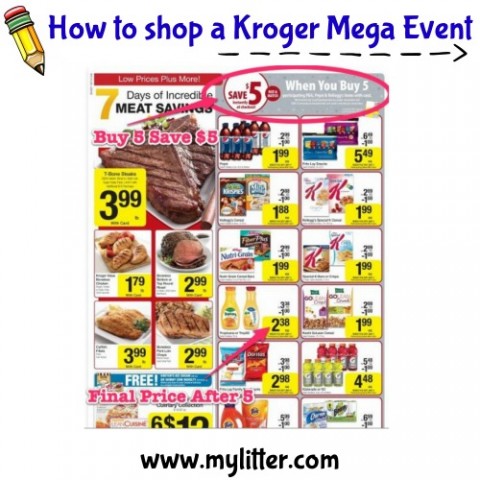 Because we have an AWESOME Kroger Mega Event coming up tomorrow, I think we need to make sure that everyone knows how to shop a mega event sale!
FIRST – I have a 30 minute You Tube Video that you can watch which will teach you everything you need to know. Just go to You Tube and search for "MyLitter Kroger Mega Event" and you will find it.
When you are having a mega event you will want to check out the ad for your region on Kroger.com and wwww.mylitter.com so you can see the deals for YOUR region. This is the front page of an ad for a mega event above. It will explain what items are on sale ( although there are a TON more in the store unadvertised) and tell you what your final price will be AFTER the mega event $$ came off at the end. It will also tell you how many items you need to buy to get a discount. 
A mega event sale is unusual because it runs for 2 weeks instead of 1.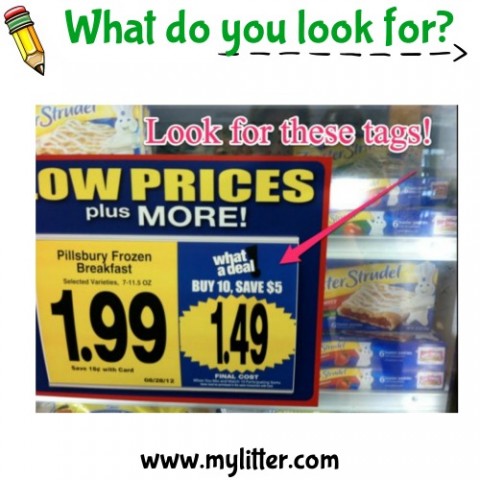 Like I said, MOST of the mega event items are unadvertised and not in the ad. So when you are in the store you will want to look for all the mega event items that are tagged like the image above.
On www.mylitter.com I also keep a HUGE list of the unadvertised items and match them up with coupons. Just look in the "nav" bar for your region under "All Things Kroger" to find your list.
The first price is the price you will pay if you don't buy 5 mega event items. The lower price is the price you will pay (before coupons) IF you buy 5 mega event items. During this sale you MUST buy the number stated. For example, in the sale above it is a Buy 10 Save $5. If I buy 19 mega event items I will only get $5 off, but if I had bought 20 I would have gotten $10 off.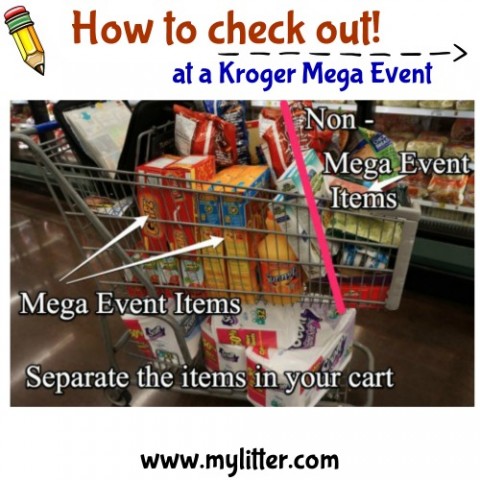 I separate the items in my cart by non- mega event items and mega event items so that I can keep track of how many I have. This trip I had 30. I also double count them when I am checking out. The $5 for each 10 items you buy will automatically come off your total when you scan your Kroger card and check out at the register. You can also check your receipt and make sure that you get all the money off that you are supposed to by looking for a <* by each item.
Sometimes if I notice I am short an item or 2, I will ask the cashier to scan a cheaper item 2 times and I will run back and get that item after checkout. This is so that I can get all the money off I am supposed to.
There is nothing you have to do to make the money come off from a mega event other then scan you Kroger card or put in your phone number. You can also use coupons on the items you are buying in the mega event. There is usually no limit on how many mega event items you can get in a transaction.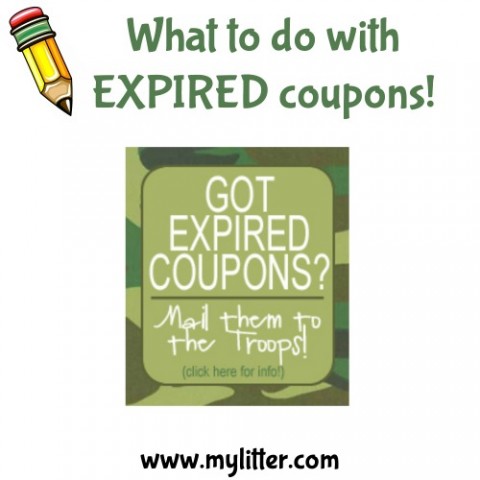 Coupons for the troops! Our Men and Women overseas in the military are able to sue coupons 6 months past the expiration dates. So, if you have ever wondered what to do with those expired coupons, you can send them over! This is one small way that we can help our military families.
Send coupons that are just a month or two past their expiration date, since it takes time to ship, sort and distribute to personnel.
If possible, try to sort coupons into smaller envelopes in the same categories you would use. At the very least, sort them into FOOD and NON FOOD if possible.
**PLEASE sort the coupons into categories before shipping them. If you do send her coupons, please consider including $1 to help defray the cost of postage.
Our military families stationed overseas CAN use the following types of coupons:
Coupons that state that they are manufacturer's coupons.
Catalina coupons for $$$ a specific product that is also a manufacturer's coupon (for example $1.00 off 1 package of Kraft cheese or 35¢ off Dannon yogurt)
Coupons from all sources provided they are manufacturer's coupons (Insert coupons, tearpads, printable coupons, booklet coupons, peelies, winetags, etc)
Our military families stationed overseas CANNOT use the following types of coupons:
Store specific coupons (for example: Walgreens, Target, Publix, etc)
Restaurant coupons (for example: Olive Garden, Pizza Hut, Dominoes, Red Lobster, etc)
Local coupons (for example: coupons good at a dry cleaner in your town)