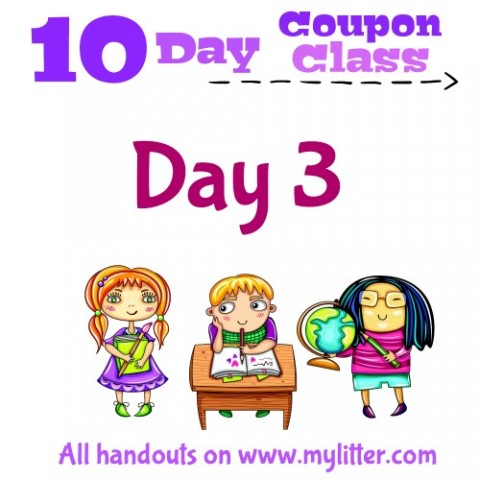 You can check out Day 1 HERE and Day 2 HERE.
Today might be the MOST important day in this class. PAY ATTENTION today! Re-read everything a few times and ask questions if you don't understand, because today I am going to show you how it all comes together.
Are you ready? Did you get your homework done from last night??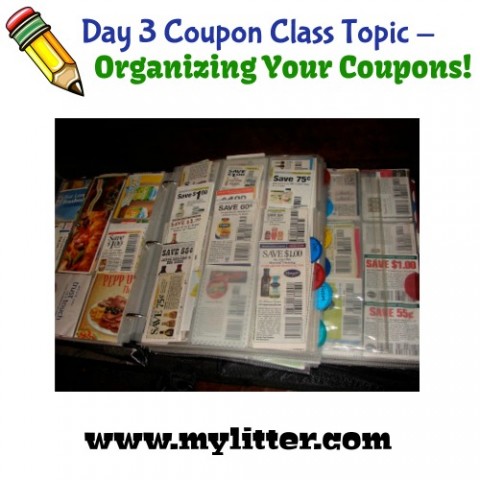 We will be discussing how to organize your coupons.  It is essential to organize your coupons in a way that you will be able to find them or you will not be successful couponing.  There are ton of different methods, you need to find one that works for you.
When I first started couponing the most popular way to organize your coupons was with the coupon binder.  Today I'm going to teach you a different method because we have found over the years that when people are first starting to coupon, doing a coupon binder can be overwhelming. So I'm going to teach you a way that allows you to only spend 15 minutes a week putting your coupons away so that you can be successful and start seeing some savings quickly!!!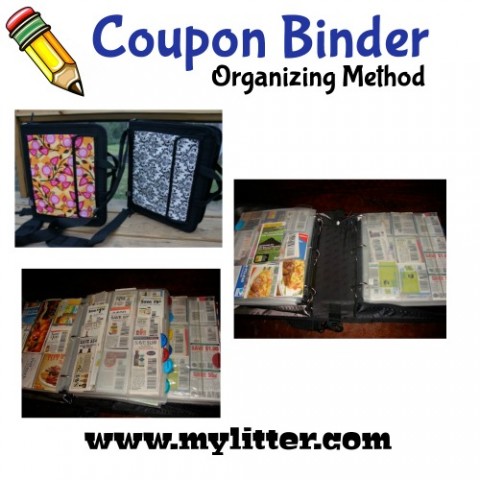 I know I just said I'm going to teach you how to not use a coupon binder, but we need to talk about it for the people that are currently using it or want to give it a try!
A coupon binder is typically a three ring binder that you use baseball card pages to hold coupons that you have cut out and file them away. This is a great method because it allows you to see all of your coupons at once. Typically you sort them by categories or aisles of the grocery store.  I have used this method for many years and I love it but it is very time-consuming and can be overwhelming to try to get all of your coupons sorted and cut each week.
The advantage is that you can quickly locate every coupon and that you have all of your coupons with you when you are in the store.  Some of the best deals I have ever gotten have been unexpected or unplanned and I was able to take advantage of them because I had all of my coupons with me.
Over on MyLitter.com I have a very detailed post with helpful links on how to organize a coupon binder, complete with printable sheets for each of your categories and a video on how I organized mine.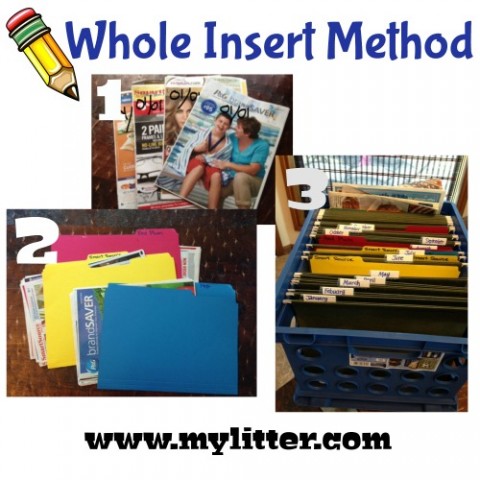 This is where I need you to pay attention, especially if you are a newbie…. I am going to teach you how to organize your coupons in less then 15 minutes a week, and how you are going to save a BUNCH of money…
Each week when you get your Sunday coupon inserts out of your Sunday paper, you will write the date you got the insert on the front of the insert. If you forget, your back up plan is the small date typed on the spine of the insert. Then you will sort your insert by Red Plum, Smart Source and if you get the P&G that week, put them all together with the same inserts.
This is how I do MINE. You can find a way to do yours that is different, no big deal. You just want to basically file them away all together where you can find them.
First – You need to get something that can hold hanging file folders. I am guessing you already have something at home or have a drawer in a desk that can do this. If not, Walmart has the box I use for only $3.50.
Second – You need a pen or marker
Third – You need about 20 hanging file folders and about 30 regular file folders, I am assuming you probably have these as well at home. If not, Walmart has them cheap.
On the hanging file folders WRITE THE MONTHS OF THE YEAR –
On the regular folders write Red Plum on one, Smart Source on one and P&G on another for each month.
Inside the hanging file folders you are going to place the regular folders with each marked with Red Plum, Smart Source or P&G . Then you will place your whole inserts in the file folder that corresponds with the insert AND you have the Sunday date written on them that is the same as the date on the insert.
In the back of your filling system you can keep your grocery ads, extra coupons, printable coupons, etc.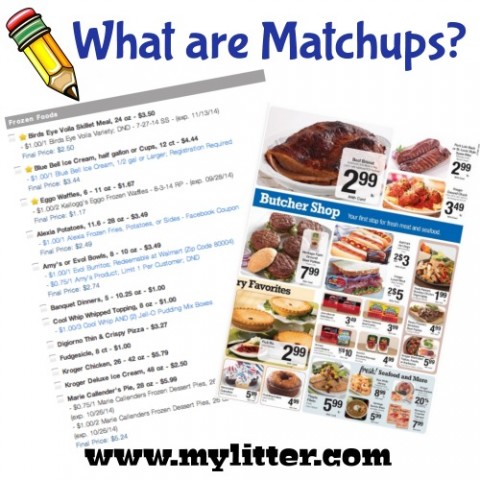 NOW…. You have your coupons filed away. How do you make this work for you?
Most grocery stores ads change on Wednesday, that is the day the new sale starts. Some grocery stores start other days, just google your local stores. Many people shop this day because there is a new sale. When you go doesn't really matter, do what is best for your family.
Each week when those store ads come out, I take the grocery store ad and type it all up in a spreadsheet. Then I match up all the available coupons with those on sale items. This is called a matchup. Remember how we talked about buying an item on sale and using a coupon with it?  Now this is where I do the work for you…. I TELL YOU WHAT ITEMS ARE THE BEST DEALS…. The items that have a STAR by them are things you will want to stock up on that week. They are the BUY NOW items. The best price items. Because each week you are stocking up on the things that are on sale, and you are combining a coupon with it, to get the BEST POSSIBLE PRICE!!
It would be hard to keep track of all the sale cycles in the store yourself and many people struggle with knowing is something is a good price or not, and should they stock up on it. I am doing that work for you!
Go to www.mylitter.com in the top in the navigation bar click on the STORE LOGO or the box on the far left that says "click for all store deals" of the store you are interested in shopping at. I do the match ups for about 20 different stores. If you have a small grocery store you might have to use Google to find someone who does the match ups for your specific store.
Stores I cover:
Walmart
Target
Dollar General
Dollar Tree
CVS
Walgreens
Rite Aid
Kroger – Which is also Ralph's, Fry's etc.
Safeway – Which is Randall's, and Tom Thumb
Aldi
HEB
Then you will want to look for the weekly matchup for that store. In the match ups you will find all the items in the current ad that are on sale, plus unadvertised deals that we have a chance to add in. If there is a Kroger mega event you will find EVERY unadvertised deal added. Then you will see under each item a coupon listed IF there is a coupon available.
There might be a few coupons listed. This does NOT mean you can use all those coupons on the 1 item, I am just giving you ALL the options of available coupons! Because you might have 1 coupon but not another, so i am listing them all.
If the coupon is listed in blue and you can click on it… it is either a printable coupon OR a digital coupon you can load to your card. If there is the option to "stack" a coupon, I will list those options as well.
Then to add the item to a grocery list, you can click the box next to it and your list will pop up. This will allow you to email your shopping list to yourself or text it, so that you have it in the store. You can also add your own items to the list or make notes.
Now for the exciting part! Check back in a minute!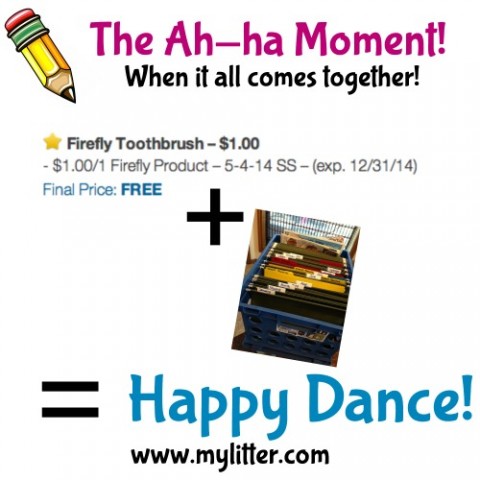 Ok here we are… This is probably the MOST IMPORTANT post you are going to read… HOW DOES THIS ALL COME TOGETHER??!!!
You learned coupon lingo
You filed your inserts away
You know how to read a matchup
You found the store match ups on MyLitter
Now you are going to the store….
In the matchup you see FireFly toothbrushes and want to get some. You read the matchup and it tells you there is a $1 off 1 Firefly coupon in the 5-4-14 SS (which is the May 4th Smart Source insert) you go to your filed inserts and flip to the MAY section, then you pull out the May 4 Smart Source insert (because you wrote the date on the front) and THEN YOU CUT out the Firefly coupons!!! Did you see how easy that was? Can we all have an ah-ha moment together?!
You stick your coupons in a plastic baggie, or accordion little file, or your pocket, or wherever and you go to the store and get YOUR FREE FIREFLY toothbrushes!!!
Easy peasy!!! So much easier then cutting all your coupons for hours and trying to file them away. If you are NEW it is SOOOO much easier to start this way!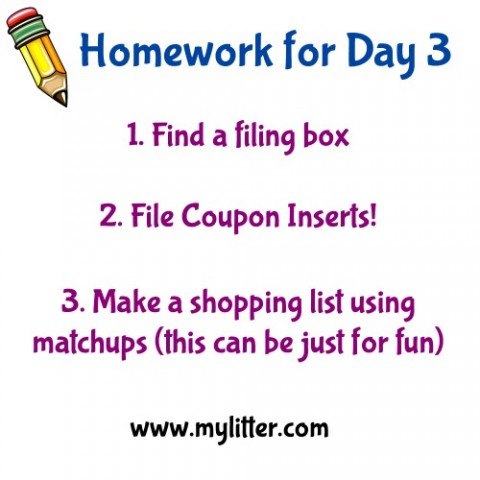 I hope today was helpful for you! Things should really start coming together for you as far as organizing and figuring out what you need to be doing and buying! Check back tomorrow for Day 4!