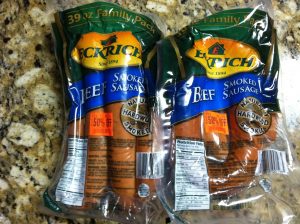 O.K. so clearance meat does not sound like something you want to eat! When they put it on clearance it isn't past its date just close. I always make sure to check the meat sections and make friends with my butcher to find out when they mark meat down. If we are not able to use it right away then I toss it in the freezer.
Friday at Randalls I found the Eckrich Beef Sausage 2lb (was $9.99) marked down to $4.99. I grabbed 2 packages and used $0.55/1 Eckrich Smoked Sausage, exp. 9/30/11 (SS 08/28/11 R). My total was $9.99 for 4lbs! I will use this on our very favorite soup recipe!
This is a family favorite recipe in our house. This is what my son asked for his birthday dinner a few weeks ago. Served with a salad and some crusty bread this is the best soup ever. I do add the kale at the end, I cut off the large vein down the middle, bunch it up and julienne it. I add it at the end and give it just a few minutes to soften up. This soup is even better the nest day!
Zuppa Toscana Soup (From Olive Garden)
Yield: Serves 8
Ingredients:
1 pound Italian sausage ( I use the beef sausage above)
1 1/2 teaspoon red pepper flakes
1 large white onion, diced
4 slices bacon chopped
3 cloves garlic, minced
8 cups chicken broth
2 cups Water
1 cup Heavy cream
3 large Russet potatoes, peeled and chopped
3 cups Kale, washed and roughly chopped
Salt and pepper, to taste
directions:
1. In a medium skillet, slice and saute the Italian sausage with the red pepper flakes. Drain excess fat, set aside.
2. In a large soup pot, saute the bacon. When the bacon is half way cooked, add the onions and garlic. Saute until the onions are tender-about 5 minutes.
3. Add the chicken broth and water. Bring to a boil.
4. Add the potatoes and cook until soft, about 30 minutes.
5. Add in the heavy cream and sausage and cook until the soup is heated.
6. Stir in the chopped kale. Season with salt and pepper. Serve hot.