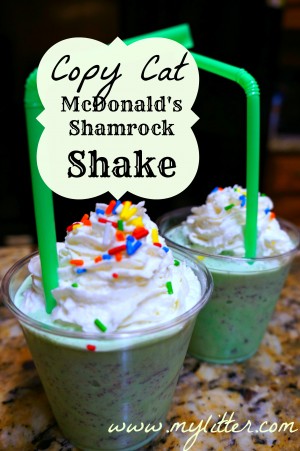 This time of year McDonald's offers a Shamrock shake that is REALLY good! The Shamrock Shake was first introduced in 1970, and was really popular in the 90's. It is basically a mint shake using vanilla ice cream.
We wanted to try it 2 different ways and see what the kids liked best!
First shake: Mint chocoalte chip ice cream, and milk.
Second Shake: Vanilla Ice Cream, green food coloring and Mint flavoring.
In all honesty, the kids couldn't taste a difference! I liked the vanilla better, but I don't like chocolate in my shakes…
You can use any ice cream, if you are where you can use Blue Bell, that is my suggestion!
McDonald's Shamrock Shake Recipe
2 cups vanilla ice cream
1 1/4 cups 2% low-fat milk
1/4 teaspoon mint extract
8 drops green food coloring
Directions:
1. Combine all ingredients in a blender and blend on high speed until smooth. Do NOT over blend!
2.  Pour into 12-ounce cups and serve each with a straw.
This kid just wanted to drink out of a straw. It is the little things when you are 5!
They chose the mint with chocolate chips. But the winner was the topping and sprinkles of course!
This was completely spontaneous! My heart then melted into a puddle on the floor! These 2 are the best of friends, I love it!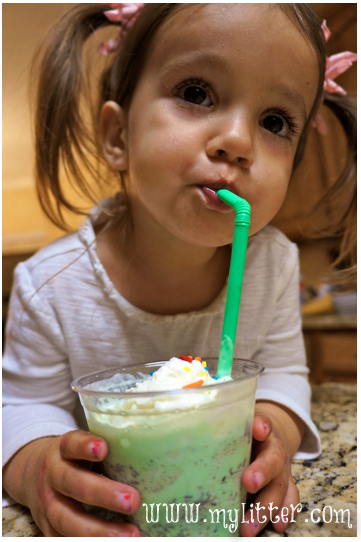 This one wanted a second shake, and you know what? She got it! Spoiled much?