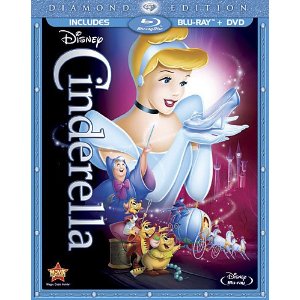 Here is a really good deal on the Cinderella ( Two Disk Diamond Edition Blu-Ray /DVD combo) for only $17. This will ship free with Super Saver shipping/ a $35 purchase or Amazon Prime. The regular price is $39.99.
Special Features
• "Tangled Ever After Animated Short
• Behind the Magic: A New Disney Princess Fantasyland
• Diane Disney Miller Intro
• Personalized Digital Storybook: Bibbidi-Bobbidi-You (Disney Second Screen Experience)
• The Magic of the Glass Slipper: A Cinderella Story
• DisneyView
• Classic DVD Bonus
Go HERE to get your copy of Cinderella!
There is also a gorgeous Cinderella Trilogy with Limited Edition Collectible Jewelry Box Packaging (Six-Disc Combo: Blu-ray/DVD + Digital Copy) (2012) for $39.99 (was $89) and this item will ship for free!