– Pin me!
You might remember my Halloween Front Door that I did for $18. It was a lot of fun and really cheap. After Halloween I took the decorations down and left the green mesh for November, I could have taken it down but I got too busy! This past weekend I ran into Dollar Tree to see what I could find to decorate the door again for Christmas.
The door above cost $23 to decorate for Christmas from Dollar tree, minus the green mesh which I have had.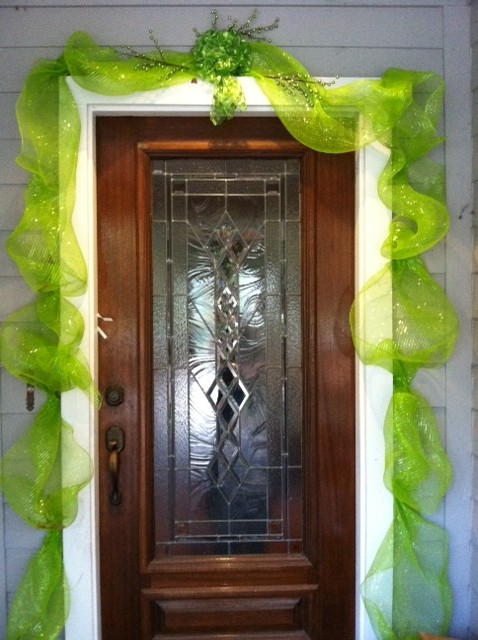 This is what my door looked like most of November. I am sure my neighbors love me!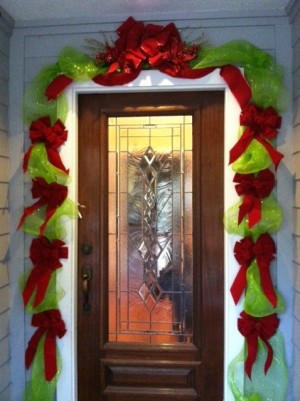 Then I added 1 large bow to the middle top ($1) with 4 pics around it ($4), total for the top $5. I added 8 smaller bows ($1 each) to each of the "poofs" on the side. I could have left it like this, but I thought it was a little plain. Plus the kids were freaking out about the decapitated Santa's so that sealed the deal. I added 8 Santa ornaments ($1 each) for a total of $16 for the sides of the door.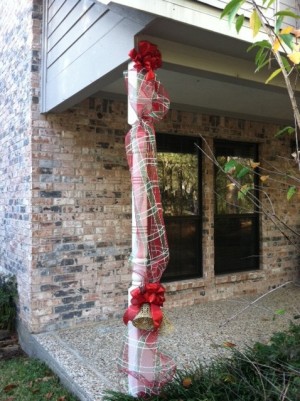 I have 4 posts in front of the house and wanted to do something to them. I bought a roll of mesh from Hobby Lobby for $10 and it did all 4 posts. I used one for the big rolls of ribbon they sell for $5 ($9.99 – 50% off) and was able to get 8 bows out of it for the top and middle of the pole. I used 2 gold bells from Dollar Tree on each post, $8 total.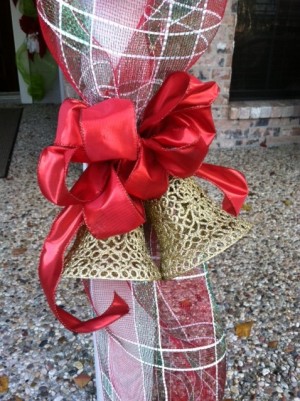 To do the 4 posts in the front cost $23. Plus the door was $23, total spent was $46 on the front porch.
Don't forget to check your Dollar stores before you go to Hobby Lobby and other craft stores like Michaels. You should be able to save quite a bit of money that way!