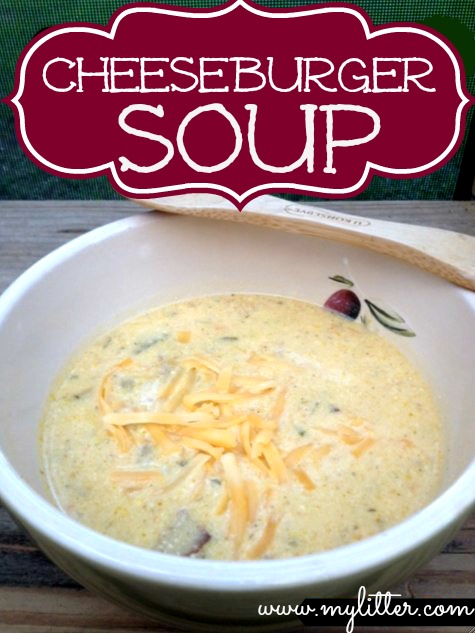 Cheeseburger Soup was a hit! I promised I would post this recipe today and I came through! 🙂 Although almost a little too late. The family ate without me and this is all that was left, nothing to really take a picture of, so close your eyes and imagine a huge bowl of chunky soup!
We had hamburgers the night before and made too many, so I tossed them in the fridge and was trying to figure out what to make with them. We have had this last spring break and I thought it would be perfect to add chopped up hamburger to. AND IT WAS!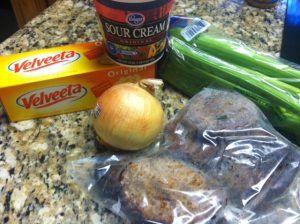 You will probably have everything you need at home. Maybe the Velveeta might throw you off, but thanks to the Kroger mega event I had some!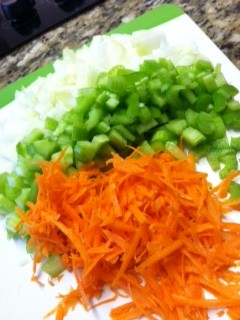 Start by chopping the celery, carrots and onion. Add some butter ( I used olive oil ) to your pan and brown with the raw hamburger. Since mine was already cooked, I just added the veggies. Saute until they are cooked or the hamburger is browned.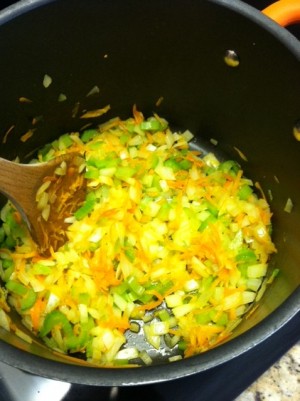 It smells so good! Next, I chopped my cooked burgers up into small pieces and when the veggies were cooked I added them in. The cooked hamburgers were a little gross going in, and my dog was going nuts! He thought they were supposed to be for him. He was so disappointed!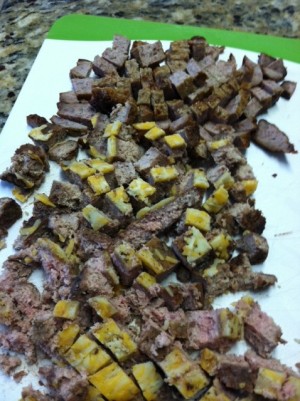 Then you are going to want to add you chicken broth.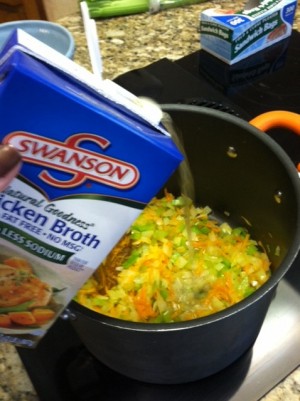 Add the chicken broth to the meat and veggies and turn the heat up.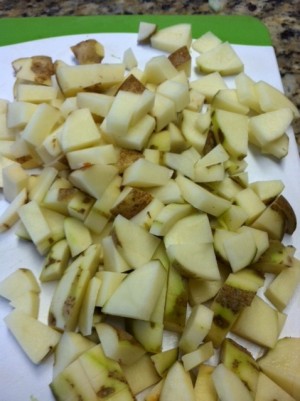 Chop up your potatoes and add them in. Bring to a boil for about 15 minutes until the potatoes are cooked through. At this point I added my spices. As it was boiling I cut up the Velveeta!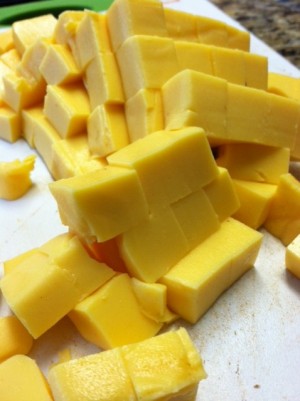 Turn the heat WAY down and add the Velveeta, you don't want to boil it as it will curdle.
At this point I left my house. From here on you are really ready to eat, but if you need a pic for some reason take it now as the family isn't waiting for you to get home to eat!
You could add some shredded cheese on the top for garnish and serve with a hunk of bread. My family loves this dish and my little kids eat it. The precooked burgers were great in it as well!

Cheeseburger Soup Recipe
Ingredients
1/2 pound ground beef
3/4 cup chopped onion
3/4 cup shredded carrots
3/4 cup chopped celery
1 teaspoon dried basil
1 teaspoon dried parsley
4 tablespoons butter
3 cups chicken broth
4 cups cubed potatoes
1/4 cup all-purpose flour
2 cups cubed Velveeta
1 1/2 cups milk
1/4 cup sour cream
Directions
In a large pot, melt 1 tablespoon butter or margarine over medium heat: cook and stir vegetables and beef , until beef is brown.
Stir in basil and parsley. Add broth and potatoes. Bring to a boil, then simmer until potatoes are tender, about 10-12 minutes.
Melt the remainder of butter and stir in flour. Add the milk, stirring until smooth.
Gradually add milk mixture to the soup, stirring constantly. Bring to a boil and reduce heat to simmer. Stir in cheese. When cheese is melted, add sour cream and heat through. Do not boil.