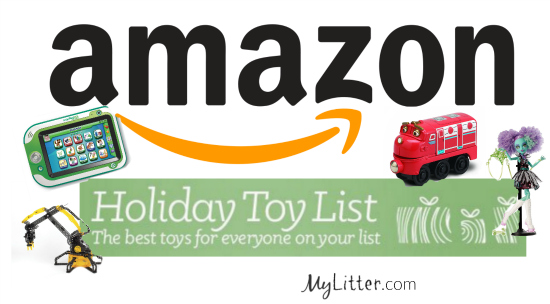 Today we are continuing the Black Friday extravaganzas with a HUGE list of awesome Amazon lightning deals, for everything from Power Wheels, Bratz Dolls, Trucks and more! Amazon has announced an awesome list of "Lightning Deals" available for rock bottom prices! They will last for a limited time and while supplies last. I recommend snagging up the deal as close to the "start time" as possible, as these deals are limited quantities, while supplies last!
Starting at 8:05 AM PST/9:05 AM MST/10:05 AM CST/11:05 AM EST
Magformers Magnetic Building Construction Set – 62 Piece
Revell Kenworth W900
Transformers Platinum Edition Trypticon Figure
KC-135A Stratotanker
Starting at 9:05 AM PST/10:05 AM MST/11:05 AM CST/12:05 PM EST
Dickie Toys International City Fire Engine (Try Me), 12″
Bright Eyes Pets – Tippy, the Blue Penguin
Pewi Ybike Ride On Toy and Walking Buddy-Purple
TREVIEWER Super Thin 20.18-inch LED Tracing Light Pad (A3-400)
Star Wars The Black Series Yoda Force FX Lightsaber
Starting at 12:05 PM PST/1:05 PM MST/2:05 PM CST/3:05 PM EST
Starting at 2:05 PM PST/3:05 PM MST/4:05 PM CST/5:05 PM EST
Bratz Big Bratz
Elenco Soldering Station with LED Illuminated Magnifying Lens
B-1B Lancer – 1/100 scale model
WWE Authentic Scale Ring with Steel Cage Match!
Starting at 3:05 PM PST/4:05 PM MST/5:05 PM CST/6:05 PM EST
Revell 1:24 '70 Mustang Boss 429 3 'N 1
Bratz Big Bratz- Cloe
WWE Authentic Scale Ring WRESTLE MANIA EDITION
Space Shuttle F/S Discovery – 1/200 scale model
Starting at 4:05 PM PST/5:05 PM MST/6:05 PM CST/7:05 PM EST
Bratz Study Abroad Case with Yasmin Doll
WWE Steel Cage Match Accessory Set
Starting at 5:05 PM PST/6:05 PM MST/7:05 PM CST/8:05 PM EST
WWE Steel Cage Match Accessory Set (Current Cage)
Starting at 6:05 PM PST/7:05 PM MST/8:05 PM CST/8:05 PM EST
Batman Unlimited: 12″ Batman & Attack ATV Action Figure
Starting at 7:05 PM PST/8:05 PM MST/9:05 PM CST/10:05 PM EST
Bruder MAN TGA Crane Truck Vehicle
Starting at 8:05 PM PST/9:05 PM MST/10:05 PM CST/11:05 PM EST
Bruder MAN TGA Cement Mixer Vehicle