This Betty Crocker $.50 off Cake and Frosting Coupon makes it $2.26 for a whole cake. OR for making Cake Pops….
Buy Both- Betty Crocker Super Moist Cake $1.12 +
Betty Crocker Frosting: $1.64= $2.76
Use Betty Crocker $.50 Off Printable Coupon
Total: $2.26 for a whole cake!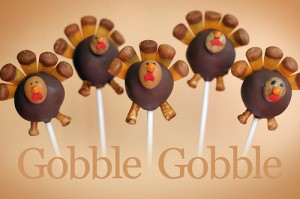 Because, nothing is cuter than Bakerella cake pops for every Holiday! Go HERE to see how to make these! If you have NOT made them before, do not be afraid!
Here are basic instructions:
Make a 13×9 cake. Any flavor you like, just follow the instructions on the box. Let it cool. Crumble the cake (always fun for the kids) and add in 1 can of frosting. Throw it into the refrigerator for 15 minutes.
After refrigerating, dust off your Playdoh skills and form the mixture into balls (also fun for the kids). Then place a sucker stick into the top of each cake ball. Pop them into the refrigerator for another quarter hour.
While waiting, start melting your candy melts.
After 15 minutes in the fridge, dip and swirl each pop into your candy melt.
Once you've got an even coating on the cake pop, place the stick into a Styrofoam block while the candy melt shell hardens.
Don't forget to use your coupons from
HERE
!