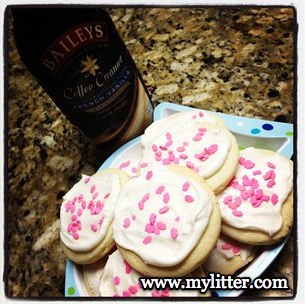 I have something really sad/happy to tell you. I fried my computer Friday night. As a blogger who is connected to their boyfriend, I mean, computer 24/7 it was a very traumatic experience! Things started to go bad Wednesday night when it wouldn't upload any pictures. Long story short I was out of disk space and just about lost my hard drive.
All is well, and the Apple people and my online Apple lifeline Brandon, saved the day. I was without my laptop for the weekend as they did emergency CPR etc. to bring it back, and blogged from the desktop which was humbling 🙂 being spoiled blogging from where ever I wanted for the past few years. Being tied to a desk was miserable. But like a champ I pulled through…. I am totally kidding, but it was a sad weekend.
Which leaves me with about 8 recipes I have to share with you this week! So get ready to start eating some food!!! 
Sunday night in honor of going back to school the girls and I made some cookies for them to take to school Monday morning.
They wanted fluffy sugar cookies with pink pig sprinkles ( don't ask! ) and so that is what we made…. except that we were out of sour cream. Hmmmmm, well, I have Bailey's Creamer.
IT WAS AWESOME! I have a new FAVORITE recipe!!!
When I rolled these out, I used powered sugar and not flour. I also greased the pan. Roll out 1/2 thick, and use something round to cut them. I had a biscuit cutter that was the perfect size.
Bailey's Sugar Cookies
4 3/4 cups all-purpose flour
4½ tsp. baking powder
1/3 cup Bailey's Flavored Creamer (or any other creamer)
¾ tsp. salt
1½ cups (3 sticks) unsalted butter, at room temperature (I used salted because it was all I had, and then used a smidge less salt than called for, tasted great anyway)
1½ cups sugar
3 large eggs (room temperature)
2 tsp. almond extract
For the frosting:
2 1/2 cups confectioners' sugar, sifted
2 1/2 tbsp. unsalted butter, melted
3 tbsp. Bailey's Creamer
2 tsp. Vanilla
First, cream the butter and sugar together. Cream it on high for a good 4 minutes. Beat in the eggs one at a time, mixing well after each addition and scraping down the bowl as needed. Blend in the almond and Bailey's. With the mixer on low speed, add in the dry ingredients, mixing just until incorporated and evenly mixed. Lick the beaters clean. Cover and chill the dough for an hour. CHILLING IS IMPORTANT!
I found that pretty much whatever shape you put them on the cookie sheet, they stayed in that shape. Roll out 1/2 thick, and use something round to cut them. I had a biscuit cutter that was the perfect size. Bake them about 8-10 minutes, taking them out of the oven before they have brown edges. Brown edges=no good. I found with the first batch that if I could just barely touch the top of the cookie and it wasn't doughy, they were perfect. Less cooked the better!
For the frosting: Start with the powered sugar and add the butter slowly mixing on high, until super smooth. Add the vanilla and creamer. Now this is where you will need to just add more powered sugar if needed, the frosting needs to be stiff or it will just run off the cookies. Add food coloring if you want.

* Want some free Bailey's Creamer? Leave a comment with your email and tell us what your favorite cookie is. I have 7 free product coupons to mail to 7 winners!