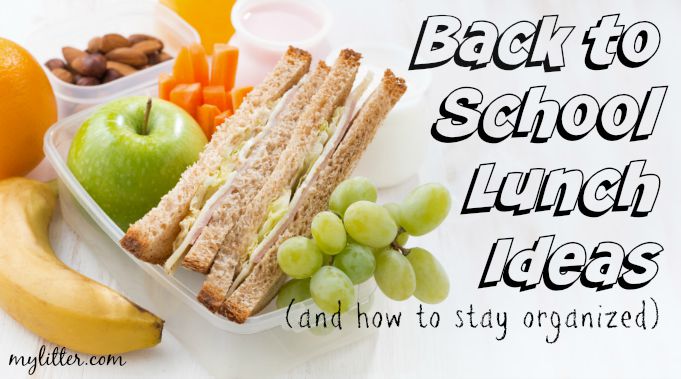 The Back to School frenzy is here (or has been for those that already started back). Between the battle of what to wear, brushing hair, and getting homework together; figuring out what to pack in their lunches can be kinda overwhelming. There are some super easy things you can do to keep yourself sane and organized in the whole process and even let the kids pick their own lunches!
Here's what you will need:
Now before you think about packing a lunch you need to sit down and make a list of foods to buy at the store. This part can be a bit time consuming figuring out which child likes what but it pays off. Make your list of items you need with help from the suggested items below as well.
Bin #1: Cold Food Items
Yogurt (if placed in the freezer the night before it should stay cold until eaten at lunch)
Cheese Sticks
Jell-o/Pudding Cups
Yogurt Tubes/Drinks
Babybel Cheese
Cheese Cubes
Bin #2: Chips/Chip like Items
Chips (childs favorite)
Vanilla Wafers
Quaker Snacks
Pretzels
Goldfish
Popcorn
Crackers (Ritz)
Lance Crackers
Bin #3: Veggie/Fruit
Fruit Cups
Sliced Cucumbers
Pickles
Sliced Tomato
Strawberries
Grapes (freeze the for an extra treat)
Celery (packed with peanut butter if wanted)
Raisins
Applesauce
Fruit Pouches
other Sliced Fruit
Bin #4: Meat/Protein
Hotdogs (pre-cooked)
Lunch meat(rolled or sandwich)
Peanut Butter/Jelly Sandwich or tortilla roll
Hard Boiled Egg
Hillshire Farm Lil Smokies (pre-cooked)
Bin #5: Dessert
Fruit Snacks
Rice Krispie Treats
Cookies
Graham Crackers
Marshmallows
Granola Bars
Now after you've stocked your bins, your morning/night before just got a ton easier. Make the sandwiches the day/night before and you stock all your bins the Sunday before the school week. Each day your child picks out something from each bin. You can then see what they like and what they come home with and adjust from week to week. If you portion the big bag of chips out it comes out to save you more money in the long run as do buying in bulk for most of these items.