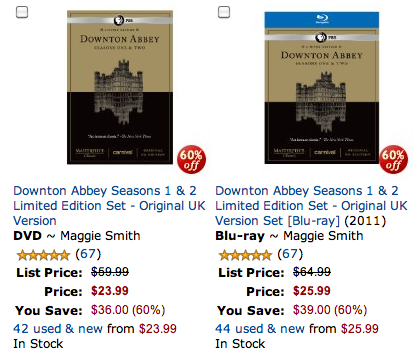 Today the Amazon Gold Box deal is for Downtown Abbey seasons 1 & 2 for 60% off! 
Downton Abbey's first two seasons are packaged in a splendid boxed set that every fan of the series, and any historical drama, will love. Season one sets a lavish stage of beautiful scenery and architecture, and a class structure rigid yet just beginning to give way at the beginning of the 20th century, and of the Great War. Season two picks up two years later, in 1916, as the war rages on over Europe, and grand Downton Abbey has been converted into a convalescent hospital for wounded veterans of the brutal combat.
Enjoy this collection of both seasons of the Golden Globe® and multi-Emmy Award®-winning, Guinness World RecordTM-holding (highest critical review rating for a TV show), most talked-about program in recent memory, including the special Christmas episode.
Special Features
Season 1 Bonus Features:
– "Making of Downton Abbey – A House in History"
– "Great British Heritage Pass, a promotional spot for British tourism."
Season 2 Bonus Features:
– Downton Abbey Christmas Special (full episode)
– "Fashion and Uniforms"
– "Romance in a Time of War"
– "House to Hospital"
This DVD set features subtitles in English (SDH). Go HERE to get yours!