Around our home, my girls know that you have to be 12 to get your ears pierced. For really no other reason then my Mom made me wait until I was 12 to get mine done, and I like to torture my kids that way! Plus, I figure at that age they can take care of them by themselves and it is one less thing I will have to do.
Last night was the night, she is not quite 12, but all the girls were together at the mall and it was really close to her birthday. I called her Dad to see if he objected in any way, fully expecting him to want me to wait so he could be there.
"Yeah, I don't care, do whatever." he says.
Not quite the response I was expecting, but then again I am not sure he gets the 12 year old girl ear piercing anticipation!
I gave her the option and she chicken out a few times, we walked around the mall for a while, got some food and were ready to leave exiting the opposite end of the mall when she finally changed her mind. I thanked her for the walking workout and we trekked back to the other end of the mall, 100 kids in tow to get it done!
As we sat there and they got her ready, I started crying. I am not sure why, it was a 100 different emotions from, "OMG I have a kid this old!" to "I remember how excited I was when I got mine done….."
Oh yes! When I got mine done…..
As we waited, my girls recounted to the nice lady at Merle Norman the entire story of when I got my ears pierced. They told the story like I was not even there, telling her about how "a long time ago, when my Mom got hers done, they didn't even have a place like this…"
OK, that is NOT entirely true. My Mom figured why waste the money, she would do it herself at the kitchen table. Just like she had gotten hers done!
My kids have no idea how good they have it, when I got mine done, my Mom didn't take me to some fancy schmacy place, (I didn't take my daughter to one, there were too many people in Clair's so we went next door to Merle Norman who was the same price!) we sat at the kitchen table!
My Mom took a cold Sprite (which was a miracle, as were not allowed to have soda) a needle and thread and a potato. We numbed my ear with the Sprite, put the potato behind my ear and she stuck the needle through! The potato stopped the needle from going in to my neck, thank goodness, and she pulled the needle through with some pliers! Then, she pulled the string through the hole and tied the string in a loop. I had to keep the string clean and pull it back and forth for weeks to keep the hole from closing.
My sissy kids get a quick "pop" and it is done!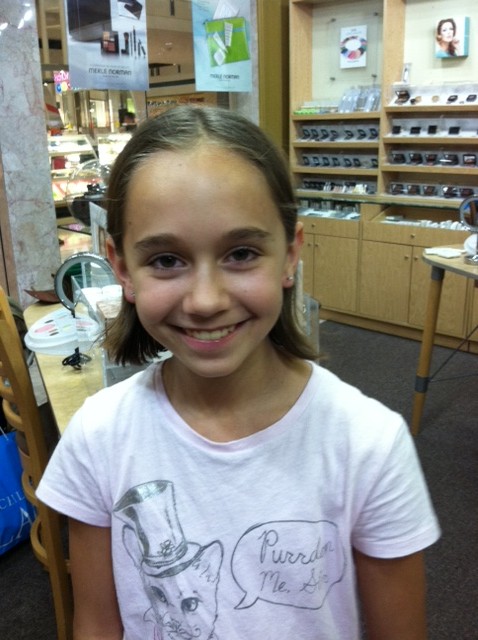 I guarantee I wasn't smiling like that when mine were done 🙂 Isn't she cute?! She also gets darling cubic zirconia 's and I got a string!
What a fun night we had, and what a good group of girls I have!
How old were you when you got your ears pierced and where did you get it done?
::Update::
This is from my Mom… I knew you would comment! 🙂
I was 17. And we used ice cubes to numb them before the needle was used to pierce the ear lobes with the potato. The potato was cut in half and the cut/flat side supported the ear lobe so the needle could go through the lobe better. And I think it was a can of frozen lemonade we used on your ears rather than Sprite…or maybe the Sprite was your reward when we were done. You've always been a brave girl. Love you, mom