In the past we've had a Batman themed birthday party for my 5 year old, complete with Batman party favors and Batman flashlights! I will admit it was almost 3 months PAST his actual birthday… We just never had a weekend that would work. Funny thing is he is off from school on Monday's and so are all his buddy's. It just took me 3 months to realize Monday morning was the PERFECT time for a party!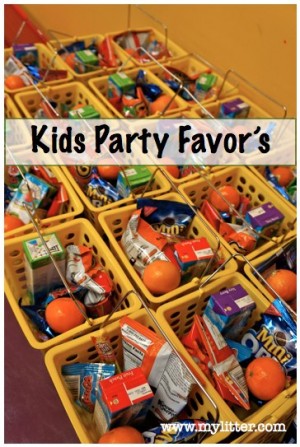 Since we were having the party close to lunch, but not serving lunch, I wanted to give the kids a bigger snack, and not too much sugar. Well, that was the plan anyway!
I found these really cute little baskets 2/$1 at Dollar tree and thought they would be a great take home gift and also hold the snacks for the kids. I filled each basket with a drink box, snack bag of Oreos, Cheetos, ring pop, Cutie, and my son's favorite little beef jerky stick! 🙂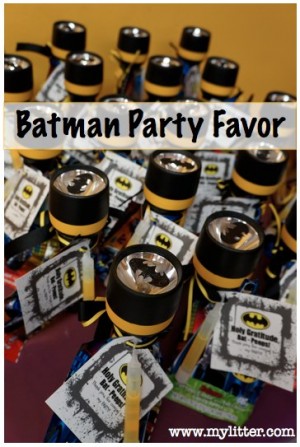 My son is obsessed with Batman. We tell Batman stories in the dark at night and my sister suggested having the kids make Batman flashlight that sent out the Bat signal… sounded like an awesome idea, but I could not figure out a way to pull it off in the time I had.
Instead at the $.99 Cent Store, I found black and yellow flashlights that would perfectly for me to make them ahead of time. I looked and looked for the Batman logo in stickers EVERYWHERE and could not find any. The night before I was freaking out a little and decided to just print off the logo from the computer onto sticky back name tags that I had already in my office.
Then, yes, I cut each one of them out and stuck them on the face of the flashlight. I did have to fill in a few spots with a sharpie marker.
Attached to the flashlights I made a thank you note just in a word program on the computer and printed them off. I found Batman pop rocks at Dollar Tree 3 for $1, punched holes in the top and tied the thank you note, the pop rocks and a yellow glow stick to the neck of the flashlight with ribbon. Surprisingly good deals for the holidays from the latest big ad.
I think they turned out cute! More importantly, my son was BEYOND thrilled!
The party was awesome, his friends LOVED their Batman party favors and I loved how easy, and cheap it all was!