Today we are starting the 12 Days of Christmas Cookies. I will be bringing you 12 different Christmas cookie recipes and pictures as the kids and I bake and eat our way to deciding which is our favorite Christmas cookie!
Please leave your FAVORITE Christmas cookie recipe in the comments for us to try!
We decided to start with an obvious Christmas cookie, the Candy Cane! These are cookies I remember my Mom making for us each year. She used almond flavoring, but traditionally they call for peppermint. If you are not a peppermint fan, consider using almond.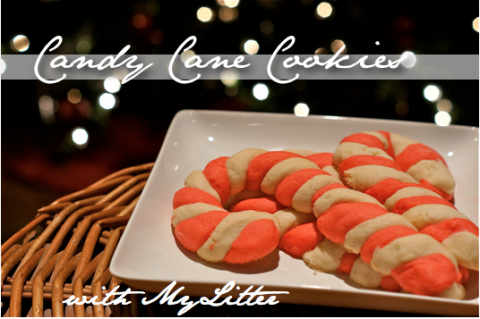 Make the dough and then stick it in the fridge for about an hour.
I rolled them directly on the granite because it is cold and the dough worked better. They were kinda fat, I could have made them smaller, but they were fun so big! The kids made theirs and ate them as soon as they came out. I double all my recipes, and I would suggest that on this one.
Candy Cane Cookies
Ingredients
1 cup margarine
1/2 cup white sugar
1/2 cup confectioners' sugar
1 egg
1 teaspoon vanilla extract
1/2 teaspoon peppermint extract
2 1/2 cups all-purpose flour
1/2 teaspoon salt
1/2 teaspoon red food coloring
1/2 cup peppermint candy canes, crushed
1/2 cup white sugar for decoration
Directions
In a large bowl, cream together the margarine, white sugar and confectioners' sugar. Beat in the egg, vanilla and peppermint extracts. Combine the flour and salt; stir into the creamed mixture until well blended. Cover or wrap dough and chill for at least one hour.
Preheat the oven to 375 degrees F (190 degrees C). Grease cookie sheets. Divide dough into halves. Color one half red by mixing in the food color. Roll a small amount of each dough into a 2 inch long worm. Roll them together in a twisted rope and curve the end like a cane. Place onto prepared cookie sheets.
Bake for 8 to 10 minutes in the preheated oven. In a small bowl, mix together the crushed candy cane and remaining white sugar. Roll hot cookies in the sugar mixture.