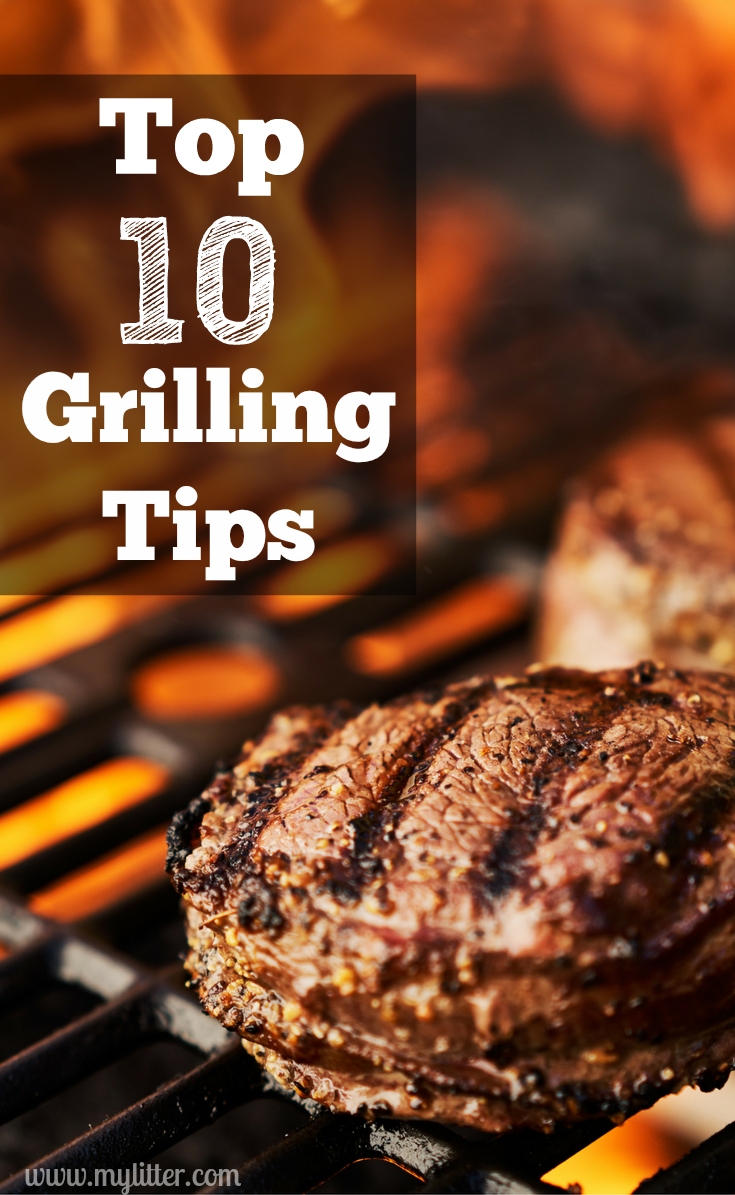 Right now you can walk outside at any time (but especially the weekend) and smell a grill going and with good reason! There's all kinds of reason to cook-out from graduation to Father's Day and grilling is often the way more frugal and budget friendly way to feed a large crowd too. You'll hear every crowd say there's a certain way to grill foods and they're right! Every expert griller knows there are specific grilling methods from the right marinade to the timing on flipping the meat and that's what we're going to share with you now.
Meat Cuts Matter


You can't purchase just any old meat and expect it to come out tasting better than a five star restaurant. Pay attention to the cut of meat you are buying. Often times it's better to buy from a meat market if you are buying items like steaks. (When buying steaks be sure to purchase USDA Prime or Angus). When purchasing steaks also look for the fat content (the white part on steaks) as this will make the steaks keep their juicy taste.

Sear the Outside


Searing the outside of your meat cuts help to seal in the flavor and juices quickly. It also gives it that magazine or restaurant style lines on them. You can obtain the look and taste of searing your meat by having your grill hotter on one side than the other, do this by having more coals on one side. It takes just a few minutes to actually sear your meat so keep an eye on your grill during this time.

Marinades May Make the Meat


Before actually placing your meats on the grill you may choose to marinade or flavor them. Some like to marinade steaks and other cuts of meat overnight in marinades. Marinating meats overnight allows the spices to sink into the meat and adds more flavor. An alternative to marinades are rubs which are dry mixtures often pre-packaged that you can rub into the meat 2-4 hours before grilling. If neither of those are your style then you can also choose to glaze your meat with a grill brush. Honey or other homemade glazes are popular.

You Don't Need a Grilling Arsenal


Less is more when it comes to your grilling tools. You don't need a toolbelt to carry them all around although a good grilling apron does come in handy.




Here are the top grilling tools you'll need to accomplish your task:

Grilling Brush – you will need this to apply glazes. Silicone grill brushes are easy to clean.

Metal Spatula – Metal spatulas are more reliable and will last longer. It's best to have two spatulas on hand to allow for easier flipping and handling of foods. (A thin edged spatula allows for ease when slipping under foods on the grate)

Tongs – Tongs are a must when grilling as they allow you to grab your meat and sides to flip when needed. If you prefer being closer to your foods when grilling get a pair of shorter tongs. (Having both a short and long pair of tongs is ideal)

Grill Brush – You will need quality wire grill brush you help you quickly and efficiently clean your grill after cooking.

Safety is High Priority


Staying safe while you grill is key and it's very simple to stay safe and keep everyone else safe as well. If you don't already have a grilling space make sure to keep it away from awnings and any hanging curtains you may have outdoors. Keep away from wood furniture or plants. As far as safety with food if you use your spatula or tongs to flip or touch raw food you can easily correct it by holding your grilling tool over the fire for 10-15 seconds to kill any bacteria that may be on them.

Knowing When the Grill is Ready


Knowing just when to start putting the food on the grill is really easy to test. Hold your hand over the grill about four inches above the grate and count four seconds or say One Mississippi, Two Mississippi, etc. If you can hold your hand over the grate longer than Four Mississippi then it is not hot enough yet to cook with. If you're using a charcoal grill you can tell when the grill is ready when the coals are grey (this process takes about 10-15 minutes)

How to Get a Smoky Flavor


Many pro grillers will tell you a good smoky flavor often makes or breaks the meat. You cannot get a smoky flavor from just using charcoal or gas to cook your meat, you need to add wood chips. Today you can buy wood chips right alongside where they sell regular charcoal and it's pre-seasoned.




For specific meats you can use these wood chips for the best flavor:

Mesquite, best for steaks or beef cuts

Cedar or Birch are best for seafood (like salmon)

Maple or Apple work great for chicken

Clean Your Grill Quickly


During a party you're less likely to want to clean your grill when you're done but it doesn't take as long as you'd think. The heat allows for ease when cleaning off your grill grate. A wire grill brush allows for easy cleaning. Many people often line their grills with foil to allow for easy clean-up as well. Just peel the foil and toss it.

Don't Over Flip or Check Your Food


You may be one that likes to check your food often but this can actually hinder grilling. Avoid poking your meats as this will actually make holes where the flavor and juices can escape from (this will dry your meats). If you're not following a recipe then only flip your food when there are grill marks (aka searing).

Remove Meat Before It's Done


Meat will still cook after being removed from the grill so to allow for this remove your meats a few minutes (about three to five minutes) before they are actually done. They will continue to cook on the plate/platter. Also allow a few extra minute for foods to cool prior to eating as well.