Many of you may know that I absolutely love Young Living oils.  There are so many amazing everyday uses for all oils and especially peppermint oil. It seems to be one of those oils I can't live without. Peppermint Oil has superpowers! It can clean, freshen, cure, repel and more! I have listed just 10 simple everyday uses for Peppermint Oil…but believe me there are so many more!
Nasty Breath – Peppermint oil will kill the bacteria in your mouth by simple using a drop of peppermint oil on your finger and rubbing it on your gums, thus leaving you with minty fresh breath! Make sure your peppermint oil is safe for ingesting.
Stomach Pains – If you suffer from upset stomach, bloating, or indigestion try some peppermint oil. Rub a drop of peppermint directly on your stomach and you will feel a sense of relief nearly instantly. I have tried this several times with my babies when they get an upset tummy, it works like a charm!
Fever Reducer – They say Peppermint oil can reduce a fever 3 degrees in a matter of just minutes when applied to the torso or feet! You can also apply a drop of peppermint essential oil to the bottom of the feet or soak a clothe in warm water with 8-10 drops of peppermint oil added and lay over feet, torso and/or forehead.
Ant Stopper– I hate ants! Especially sugar ants. Put a dab of peppermint oil in the path of the ants and they will turn around and leave that area for good!
Anti-Bug Spray – Make a peppermint bug spray by adding 4-5 drops of peppermint essential oil to water in a spray bottle and spray where you would find spiders in your home. Or spray around your plants to get rid of aphids in the garden. Check out my Bug Repellent Spray HERE.
Feet and Back Pain – For an aching feet and backs add peppermint oil to a warm compress or hot bath and soak for 10-15 minutes. The peppermint will not only provide a refreshing feeling but it will also reduce any inflammation. I used this method many times throughout my pregnancies, and it really felt so refreshing and really did help the swelling.
Curve Your Appetite – Peppermint will help curb your appetite. Whenever you have cravings for sweets or unhealthy snacks add a drop on the tongue and it will decrease that craving. Make sure your peppermint oil is safe for ingesting.
Anti-Itch Relief – You can apply peppermint oil directly to the area to stop itching caused by bug bites, hives, poison ivy or poison oak. Or if you'd prefer add a few drops of peppermint oil to your favorite lotion or coconut oil and apply generously.
 Relieve Heartburn – Add a drop or peppermint oil and a teaspoon of honey to your tea. Or mix 5-6 drops of peppermint oil with a teaspoon of coconut oil and massage onto your chest. Make sure your peppermint oil is safe for ingesting.
Window Cleaner – Mix a few household ingredients together and make an all natural window cleaner with a refreshing scent! Check out my DIY Window Cleaner Recipe HERE.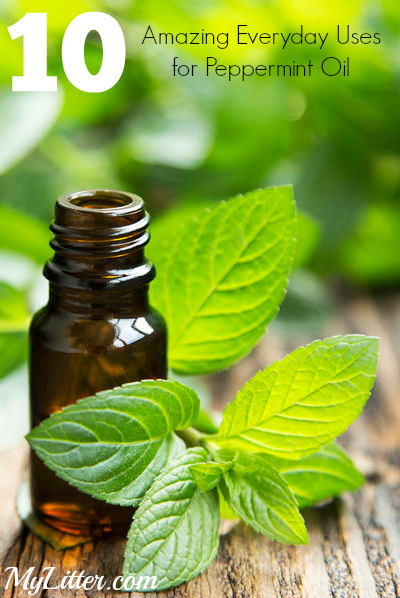 Find out more about Young Living Oils and how to purchase HERE!