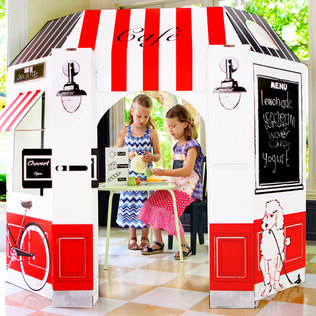 I was so excited about the Zulily Laura Ashley event earlier today I forgot to post the fun cardboard items they have today!
Know how kids would rather play with the box? Well, they have taken it to a whole new level by making cardboard playhouse kits that are lifesize for your little ones! They can assemble and decorate their own cafe', house and even horse and carriage!!
These are SOOOOO much fun for the kids and MOST of them are under $20.
If you already bought some shoes this morning, don't worry about paying shipping again, at Zulily, once you pay shipping it is free all day if you order anything else.
Go HERE to take a look!