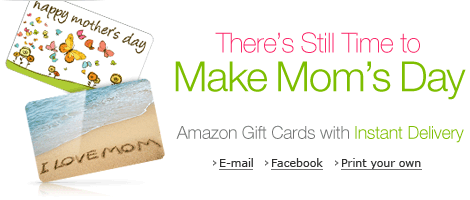 Amazon is offering free one day shipping on their gift cards today! This is perfect for Aunt's and Grandma's far away for Mother's Day!
There are many to choose from. I would rather have an Amazon gift card than any other gift card out there, because I can get so many different things with it!
Do you have someone that you have no idea what to get them??  The perfect gift for that hard to find person is an Amazon gift card! Sure, you can get them any old gift card, or even a Visa gift card (you have to pay a $5.95 fee with those) but with an Amazon gift card, you don't have any fees and you can give $.15 to $2,000! I have sent MANY $5 gift cards to friends to just say 'Thank You" have a Coke on me!
These are the BEST gift cards, because you can buy ANYTHING with them! Give someone a restaurant gift card and they don't have the choice of which restaurant to go to! Give them an Amazon gift card and they can buy, food, toiletries, toys, books, electronics, clothes, shoes, a bike, office supplies and about 2 million more items
Your gift card can be deliver a few different ways.  Send gift cards by e-mail, Facebook, print-at-home, or mail with Free One-Day Shipping. New in gift cards: Video Gift Cards, upload a personal photo, eGift an Item, send in a free gift box, or buyMulti-packs.
Video gift cards are the coolest new thing this year. Send a Video Gift Card by e-mail or on Facebook. Or, Upload Your Photo to an Amazon Gift Card for the ultimate personal touch. You can have the kids create a message and send it to loved ones via video!
Gifts cards sent in the mail come with a free card and free gift box! You can email the gift card and even schedule it to be sent immediately or in the future.
The lucky person you give it to can use it right away or they can add it to their account and use it all year long!
* These are really great "office bonus" gifts and even White Elephant gifts for fun! Go HERE to take a look!
** If you are a business owner, they have an entire Corporate Gift Card store JUST for you! There is free 1 day shipping and employee motivation programs and MORE! Take a look HERE!