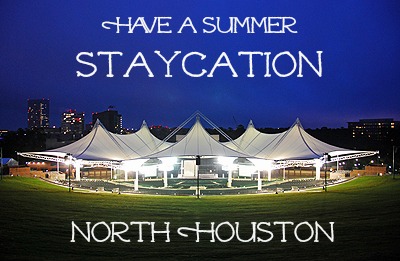 I have talked about Staycations many times in the past few years. Let's see what kind of Staycation we can do in the North Houston area! If you want to keep up with more in the Houston/North Houston area, be sure to Like MyLitter on Facebook for updates, or sign up for the daily newsletter in the sidebar of this site.
Staycations. We have done this a few times and the kids LOVE it. We make up a plan of things we want to do in our own city that we are always too busy for. Then we plan each day as if we are out of town with no distractions and spend the day as a family. We go to parks that are "in town" or down to the beach, or see historical sites that we had no idea about. Just google "things to do in…." and make a list of places you are interested in. We have also gotten a great deal on a hotel room only 40 minutes from our house ( make sure it has a pool!) and spent the night there and did a few things during the day and came home. It didn't cost a lot, but the kids felt like they had a vacation because sleeping in a hotel "is soooo cool!" Plus, they got to swim in the pool all night!
Let's start with what I am familiar with, The Woodlands! You really never have to leave The Woodlands, you can find just about everything that you need right here! There are soooo many free things to do, and fun to be had right in your own backyard!
4th of July weekend! – There is SO much to do this weekend! Most of it is free!
Concerts in the Park – Free Concert every Sunday night 5:00pm North Shore Park, The Woodlands.
Grogans Mill Farmers Market – Now Open EVERY Saturday 8:00 AM – Noon at Grogan's Mill Village Center
Sam Houston Statue  – One of our favorites! World's Tallest Statue of an American Hero. At the Visitors Center, you will find an assortment of visitor information with videos, brochures, maps, and help to plan your day.
Huntsville State Park – A scenic 2000-acre recreational area that complements several city parks. The heavily wooded park adjoins the Sam Houston National Forest piney woods, home of the 105-mile Lone Star Hiking Trail.
Texas Prison Museum – We have not been here yet…
Museum/Attraction Free Days
•    Buffalo Soldiers National Museum: Free Monday 10 am – 5 pm
•    Children's Museum of Houston: Free Thursday 5  –  8 pm
•    The Health Museum: Free Thursday 2  –  5 pm
•    The John C. Freeman Weather Museum: Free Thursday 12  –  4 pm
•    Houston Museum of Natural Science: Free Thursday after 2 pm
•    Museum of Fine Arts, Houston: Free Thursday 10 am  –  9 pm