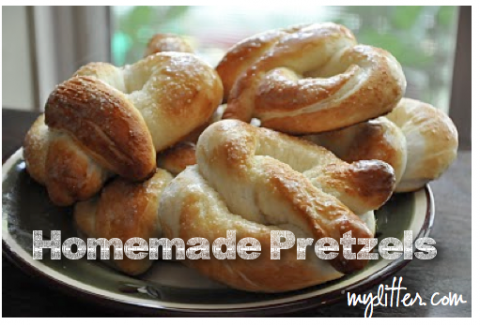 Christmas came early in the MyLitter household! Last week my Mother and my lovely Sister decided to do a mixer comparison. My Mom has had a Kitchenetix machine for many years, she just got a Bosch. I have a fabulous Kitchen Aid that my MIL got me many years ago, but it was and still is, top of the line.
My Sister borrowed my Kitchen Aid and took off to my Moms house. They set all three mixers up and tested all kinds of things, like whisking egg whites, cream and finally they decided to make 22 loaves of homemade bread. They wanted to see which was the best mixer.
When the mixer left my house, it was in perfect working order. I sent the one regular attachment with it and was hoping they would clean it up when it came back. I didn't hear form anyone for a few days and finally my Dad came over to get his hair cut.
"Here's you mixer back" he says.
I set it on the counter and notice a slight campfire smell. My Dad is a big time scouter so I just figured it was his clothes.
"Did you hear what happened to your mixer?"
"Ummmm, NO. Do Tell!" I say waiting for the news.
They (my Mother and Sister) were making the bread dough.
My Sister did not realize that there was a SEPARATE DOUGH HOOK for the mixer and that you don't make bread dough with the paddle on LOW SPEED.
Needless to say, I no longer have a Kitchen Aid and my Mom's kitchen that night was full of smoke! They killed my mixer!
But, I am happy to say that I am the proud new owner of a Bosch! The WORKHORSE of the kitchen!
MMUUUHHHH Hahahahahaha! It's mine… alll mine!!!! All 800 watts of screaming mixer power! (Insert evil laugh!)
Thanks Mom and Dad! You guys rock! Thanks Anna for destroying my mixer so I got a new one… I'll slip you that $50 later…

I had to test out my new mixer and my husband requested Homemade Pretzels, his favorite, so here you go…

In a small bowl, dissolve yeast and 1 teaspoon sugar in warm water. Let stand until creamy, about 10 minutes.

In a large bowl, mix together flour, 1/2 cup sugar, and salt. Make a well in the center; add the oil and yeast mixture. Mix and form into a dough. If the mixture is dry, add one or two tablespoons of water. Knead the dough until smooth, about 7 to 8 minutes. Lightly oil a large bowl, place the dough in the bowl and turn to coat with oil. Cover with plastic wrap and let rise in a warm place until doubled in size, about 1 hour.

My spiffy oven has a bread proof setting so I used that. Took a little less than an hour but doubled.

Preheat oven to 450 degrees F (230 degrees C). In a large bowl, dissolve baking soda in hot water.

When risen, turn dough out onto a lightly floured surface and divide into 12 equal pieces. Roll each piece into a rope and twist into a pretzel shape. Once all of the dough is all shaped, dip each pretzel into the baking soda solution and place on a greased baking sheet. Sprinkle with kosher salt.
Now is when you recruit the help. My Sister (who destroyed my Kitchen Aid) volunteered to teach the girls how to make a pretzel. Actually they taught her…

Bake in preheated oven for 8 minutes, until browned.

They turned out AMAZING! Can you smell them now? We took some and dipped them in the water/baking soda mixture, and added cinnamon and sugar to them and they were awesome also!