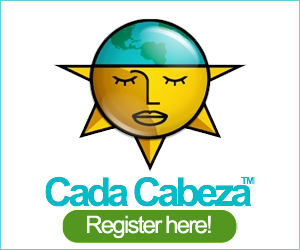 O.K. This is a new one! If you consider yourself Hispanic in any way…. this one has HUGE payouts! It is called Cada Cabeza. My friend Christie signed up for this one the other day, you are paid by points which equal $$. Christie signed up and immediately had 9 surveys waiting for her in her account. She earned 1020 points in the fist day that paid her $20! Plus you get 100 points for referring a friend.
You can take the survey's in either Spanish or English. For every 1,000 points you earn $20. Christie was able to do 2 in 5min. Looks like a good site! Go HERE to check out Cada CAbeza!
**UPdate – I went and signed up, it took about 4 min, ( when it asked about kids, I didn't put any) it was painless now I'll just see what I get! Also, I am not Hispanic and put that I was Caucasian throughout and they still took me. They also give you a link so that people can sign up under you and you get points, I am not going to use mine, you are welcome to share yours in the comments.