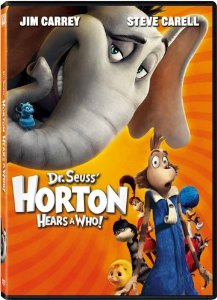 ::LAST DAY!::
WOW!!! You can score Horton Hears a Who for only $.99 today on Amaozn with new coupon codes!
Save on Select Animated Favorites on Blu-ray and DVD
Save $4.00 when you order a select movie on DVD and use the promo code 4OFFDVDS at checkout.
Save $6.00 when you order a select movie on Blu-ray and use the promo code 6OFFBLRY at checkout.
Please note: If you order both DVDs and Blu-rays, please enter both codes at checkout. Go HERE to take a look!
Make sure to check out MyLitter's Amazon Favorites. Find out which items we see deals on most often, some of the best add on items to get to $25.00 for Free Super Saver Shipping and many more goodies everyone loves.
Learn how to check your Amazon credit balance.
*Remember that Amazon prices can change without notice. Please verify price before ordering.