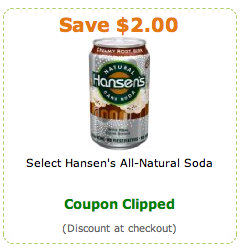 Right now on Amazon you can get a $2 off coupon to use on Hansen's All Natural Soda. If you have not tried this stuff it is AWESOME! I grew up on it and really don't like anything else!
This is made with real sugar.
For $11.16 you will get 24 cans, at $.46 a can!! Make sure to "clip" the $2 coupon and choose the "subscribe & save" option to get the best deal.
Once your order has shipped you can always cancel this option. They will email you a few times and remind you. Go HERE to take a look!
In the 1930's, Hubert Hansen and his three sons began selling fresh, non-pasteurized juices to film studios and retailers in Southern California under the Hansen's name. In the 1970's, Tim Hansen, the grandson of Hubert, developed and marketed a variety of Natural sodas and pasteurized shelf stable, 100% juices also under the Hansen's label. For over 70 years Hansen's has enjoyed a loyal consumer following for its high quality, delicious all-natural beverages. Hansen's is a leading marketer of all natural alternative as well as functional beverages. The Brand is recognized nationally.