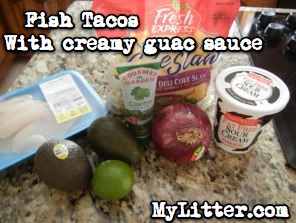 First, before you think "oh gross" or "my kids wouldn't eat that" hear me out!
I am totally obsessed with fish tacos. I think it happened when I took a cooking class at the YMCA a few years ago and we made them there. That is when I used a grill pan for the first time and fell in love. Then I had fish tacos at Rockfish restaurant and now I order them all the time anywhere I can!
Yes, my kids eat them. How? Because I lie to them. I am not proud of it, but they eat fish without complaining. They think it is chicken. There I said it. 🙂
Funny thing is, they like it. As they get older and figure it out, they continue eating fish because they realize that it is good and good for you.
My favorite are grilled, with some kind of guac and corn tortillas. This recipe I am posting is one I have been using for about 6 months.
The total cost for this meal to feed 6 (or more) is under $10 depending on how much your avocados are that day. I always use tilapia and buy lots when it is on sale and freeze it.
Fish Tacos with Creamy Lime Guacamole Sauce (from Delish)
2  Hass avocados, halved, pitted, and peeled
1/4 cup(s) low-fat sour cream or Greek yogurt
1 small jalapeño, seeded and thinly sliced
2 tablespoon(s) minced red onion
2 tablespoon(s) chopped cilantro
5 tablespoon(s) fresh lime juice
Kosher salt and freshly ground pepper
1 small (4 cups) head of napa cabbage, shredded
2 tablespoon(s) vegetable oil, plus more for brushing
2 pound(s) thick red snapper fillets with skin, cut crosswise into 10 2-inch-wide strips
10  (7-inch) flour tortillas, warmed
2 medium tomatoes, thinly sliced
Hot sauce, for serving
Lime wedges, for serving
Directions
Light a grill. In a medium bowl, mash the avocados, sour cream, jalapeño, red onion, cilantro, and 3 tablespoons of the lime juice. Season the guacamole with salt and pepper and press a piece of plastic wrap directly onto the surface of the guacamole.
In a large bowl, toss the cabbage with the 2 tablespoons of vegetable oil and the remaining 2 tablespoons of lime juice. Season with salt and pepper.
Brush the fish with oil and season with salt and pepper. Grill over moderately high heat until lightly charred and cooked through, about 10 minutes. Transfer the fish to a platter and pull off the skin.
To assemble each taco, spread a dollop of guacamole on a tortilla. Top with a piece of fish, a few tomato slices, and a large spoonful of the cabbage slaw. Serve with the hot sauce and lime wedges.