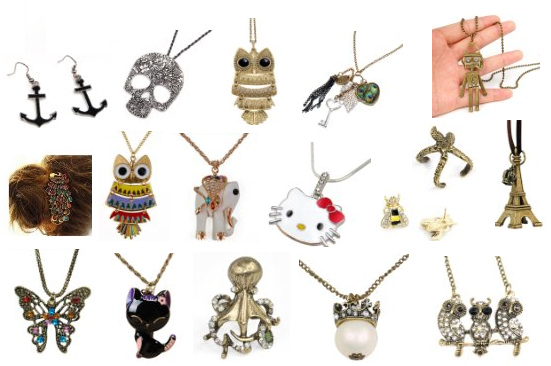 Got $5 burning a hole in your pocket? I've got just the way for you to spend it! Why not grab yourself a cute pair of earrings or a pretty necklace for under $5 shipped right to your door!? Everything pictured above is available on Amazon right now for under $5 shipped! Find the piece you're looking for below.

Lovely Vintage Jewelry Crystal Peacock Hair Clip $1.03

Vintage Owl Pendant Long Bronze Chain Necklace $3.22

Vintage Skull Face Hollow Flower Carving Pendant Chain Necklace $4.95

Trendy Vintage Starfish Cuff Ring $4.29

Retro Tassel Peacock Feather Pattern Heart Key Leaf Multi Pendant Necklace $4.99

Lovely Cute Fashion Anchors Black Pattern Glazed Stud Earrings $2.29

Vintage Fashion Water Drop Style Pendant Long Chain Necklace $4.59

Fashion Vintage Pearl Crystal Crown Pendant Long Chain Necklace $4.99

Vintage Bronze Adjustable Crystal Rhinestone Octopus Ring $3.99

Lovely Cute Owl Family Rhinestone Crystal Paved Pendant Necklace Retro $4.99

New Vintage Black Glazed Lady Cat Pendant Long Chain Necklace $3.29

Vintage Bronze Hollow Butterfly Rhinestones Slim Round Chain Necklace $3.79

Vintage Bronze Eiffel Tower Pendant Leather Chain Necklace $3.49

Golden Tone Metal Decorative Colorful Rhinestones White Thailand Elephant Pendant Necklace $3.99

New Fashion Charming Jewelry Ancient Style Cute Robot Notes Pendants Necklaces $4.09

Cute Rhinestone Crystal Bee Stud Earrings – Gold Tone Plated $2.99
And everyone's favorite feline…


Kitty Face White Glazed Pendant Snake Chain Necklace Red Bow Tie $3.79
So, which one did ya get?