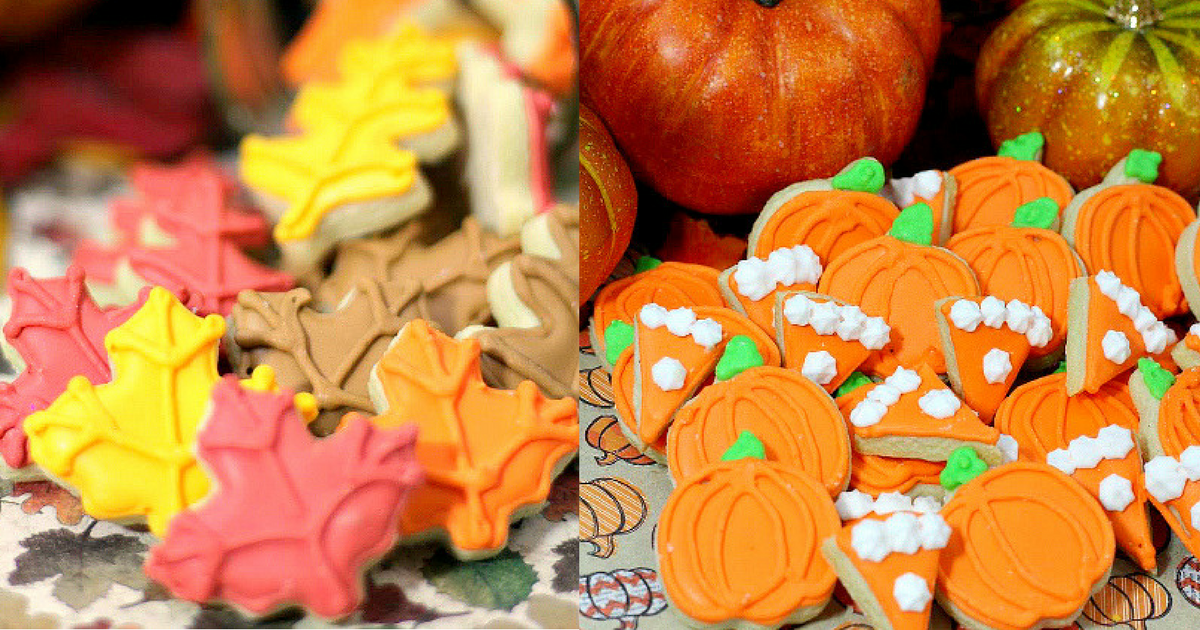 Holidays move so fast towards the end of the year. From Halloween to Thanksgiving Traditions in a snap! We are going to show you recipes, crafts, and more tips on how to make the best of your Thanksgiving all on your own! (We're also going to show you what to do with all that food after Thanksgiving too!) So hang on and get your DIY gloves ready for a recipe, craft, and more each day!
Today we are showing you a couple different Thanksgiving Cookie Recipes: Mini Autumn Leaf Cookies and the Mini Pumpkin Cookies. These cookies seriously look like they came from a store right?
Sugar Cookie Ingredients: 
5 C flour
2 tsp baking powder
1 tsp salt
1 1/2 C soft unsalted butter
2 C granulated sugar
4 eggs
Now to make the tasty Royal Icing!
Ingredients:
2 egg whites
1 cups powdered sugar
1/2 teaspoon cream of tartar
Orange, brown, red and gold yellow gel food coloring
After you have made your cookies: (Autumn Leaf Cookies)
The first step for each of the leaf cookies outline it in the color you prefer.  Doing this in an assembly method will make it go much faster.  Allow the icing outline at least  30 seconds to dry before filling the body of the cookie in with the other the rest of the icing. (After outlining all of these leaf cookies you can push some the remaining icing into a bowl and add the 1 tsp of water and mix well to get the right consistency.) Leave some of the icings in the frosting bag for additional accent work on each of the leaves. Using a butter knife to spread it from the outlined part inwards to the center.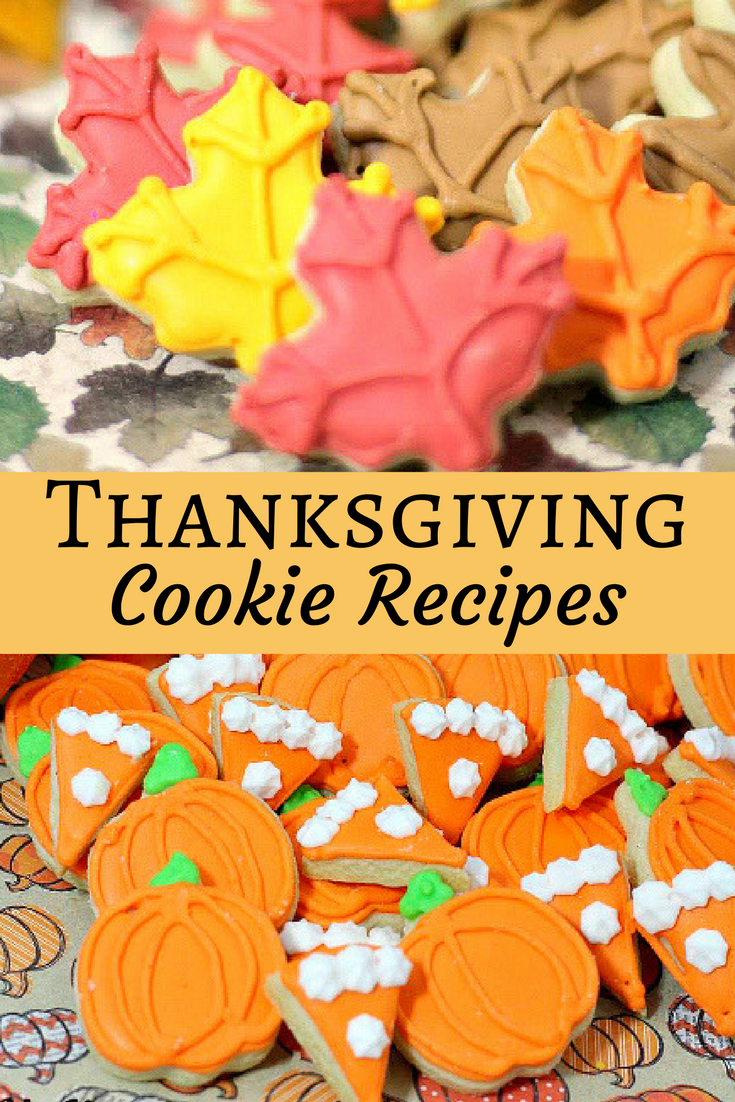 You may also enjoy:
Rachael Ray Cucina Nonstick Bakeware Set
Features heavy-gauge steel construction with rolled-rim edges designed for easy, everyday use

Nonstick


Includes all the essential bake pan shapes for great baking results and is oven safe to 450 degrees F

Set Includes Two 10-Inch x 15-Inch Cookie Sheets, two 9-Inch Round Cake Pans, one 9-Inch Square Cake Pan, 2-Piece Loaf Pan, 9-Inch x 13-Inch Covered Rectangular Cake Pan, and a 12-Cup Muffin Pan
Fall Thanksgiving Cookie Cutters Set
8 Pieces Pumpkin, Big Turkey, Maple Leaf, Oak Leaf, Squirrel, Big Acorn, Small Turkey and Small Acorn.

Food-grade stainless steel, durable and great for cutting fondant, bread, sandwiches, jelly, cheese, soft fruits, pancake, soap, craft clay.

Smooth cutting edge makes them easy to use for adults and kids, the other side for the press is binding processed, makes them safe to use.
OXO Good Grips 3-Piece Angled Measuring Cup Set
Patented angled surface lets you read measurements from above

Eliminates the need to fill, check and adjust

Standard and metric measurement markings

Dishwasher safe and BPA free
Happy Baking!
Making the most of your shopping this year? Don't forget to: 
Compare prices to Amazon (Amazon may have changed their price since we posted this!  They frequently change prices to match the major retailers)