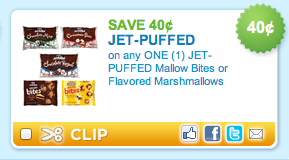 This happy little coupon is still hanging in there, you can print a $.40 off Jet-Puffed Marshmallow coupon, which will double at Randalls and make them only $.09 a bag right now!!
You can see my Randalls post HERE.
I am headed up to the store like most of the country soon and found some awesome ideas as to what to do with these fun marshmallows!

First, I think I am going to make some pumpkin cupcakes or spice cake, I know I have a mix, which ever it is for! I am going to use the fancy Jet-Puffed marshmallows to put on the top like the picture below.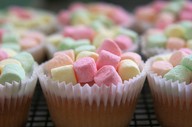 Photo Credit
I have always wanted to make a Sweet Potato Pie. I make pumpkin and pecan of course, but with the marshmallows on top, browned like this, it looks delish!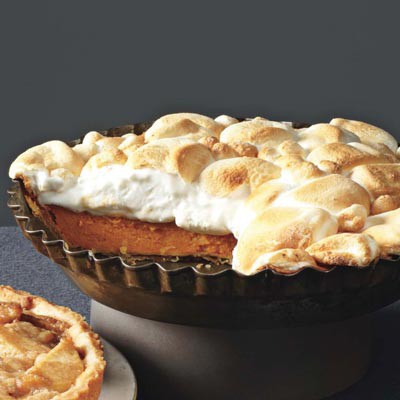 This recipe is from Rachel Ray, and you can see it HERE. 
INGREDIENTS
 1/2 pkg. (14.1-oz.) refrigerated piecrust (coupon HERE)
2 sweet potatoes (about 1 lb.)
1 cup buttermilk
3 eggs, lightly beaten
3/4 cup packed brown sugar
1/4 tsp. salt ( Coupon HERE)
1 bag (10 oz.) marshmallows (1-inch size) ( Coupon HERE)
1 1/2 cups mini marshmallows (about 3 oz.)
DIRECTIONS:
Position a rack in the center of the oven and preheat to 350°. Unroll the piecrust into a 9-inch pie pan; crimp the edge and prick the bottom all over with a fork. Cover the crust with a sheet of foil and fill it with dried beans or other pie weights. Bake until the crust edge is just dry and lightly colored, about 10 minutes. Remove the foil and beans.
Meanwhile, pierce the sweet potatoes in several places. Microwave on a paper towel, turning once, until they are easily pierced with a fork, about 7 minutes. Let cool, then peel. Using a food processor, pulse the sweet potatoes until smooth. Blend in the buttermilk, then add the eggs, brown sugar and salt and pulse until combined, about 30 seconds. Pour the filling into the prepared crust. Bake the pie until the center is just set and puffed and the pastry is golden, about 50 minutes.
Preheat the broiler. Cover the top of the pie with the large marshmallows, mounding them in the middle; fill the empty spaces with the mini marshmallows. Place the pie on a baking sheet and broil until browned, less than a minute. Turn off the broiler, close the oven door and leave the pie in the oven until the marshmallow topping just softens, about 3 minutes. Transfer to a rack to cool slightly.

Photo Credit

Don't let these scare you! They are not hard to make. If I can do it, anyone can! They are Sweet Potato Whoopie Pies with Maple Marshmallow Frosting. OH. MY. GOODNESS.

I Love Pinterest, you need to go and request and invite HERE. It might take a few days to get in.