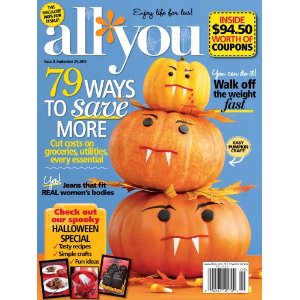 Thanks to HK for the heads up on how to get a subscription to All You for the cheapest around!
This is what to do:
Go HERE to Eversave and login or create an account. You get $5 for doing this!
Then click on "Today's Save" and you should see this:
Click "Buy Now" and if you have not bought anything before they will take the $5 off! So you are paying $7 for $26 worth of magazines!
Offer Expires Sep 30, 2011. Coupon Code available 2 days after purchase at 12:00:PM EST. May buy up to 5 Saves for family, friends, gifts or repeat purchases Use one coupon code per purchase Free shipping is included.
Then when you get your coupon code, go to Blue Dolphin and order All You magazine for $19.99 a year ( only costing you $7) plus you have $6 left over for another magazine!