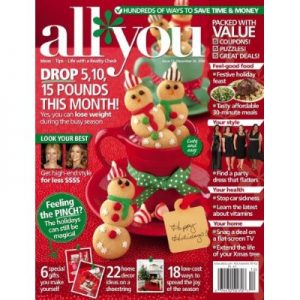 Julia from The Frugal Find has found a way to get the All You magazine for $.69 an issue. This is the best price that I have seen in a long time. All You magazine can be found at the check out lane in Walmart and is $2.49 an issue there, they have a TON of coupons in them!
If you use Shop at Home they are offering 33% cash back at Magazines.com. The way that this works is that you:
Go to Shop At Home and either login or sign up.
Search for Magazines.com in the search bar. Click on shop now when it comes up.
Once you are at Magazines.com search for All You.
By using Shop At Home you will get $6.59 back from them. + $5 if this is your first purchase.
Remember that the $6.59 or $5 (if you are new) does not come off your purchase price at Magazines.com, but rather when you have a $20 balance at Shop At Home they will send you a check. I get a check from them every month…. don't tell me husband 🙂
Then, use your coupons inside the magazine at Walmart (or anywhere) I Heart The Mart has the coupon match-ups at Walmart, here are a few of them:
Scrubbing Bubbles Power Spray Starter Kit – $6.97
$3 off Dec All You Page 122
Total: $3.97
Prevacid – $10.46
$4 off Dec All You Page 65
Total: $6.46 for the 14ct
Neutrogena Cosmetics – $6.37
$3 off Dec All You Page 35
TotaL: $3.37 ( this is on mascara)