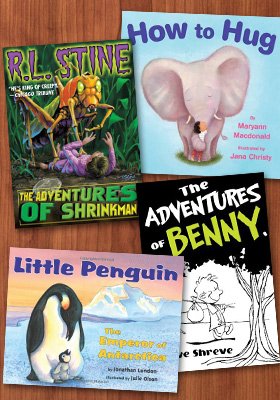 Today over at Amazon Local you can get a free voucher that will let you purchase 25 different books at $2 each! Guys, these are nice books that don't go on sale!
Help foster that love of reading with today's deal from Amazon. Get a free voucher to purchase select Kindle kids' books for $2 each. With 25 titles to choose from, there's sure to be something to capture the interest of every young reader.
Free voucher to purchase select Kindle kids' books from the Amazon Kindle Store for $2 each
Learn about lovable creatures like Little Penguin: The Emperor of Antarctica
Travel to exciting new places with The Adventures of Bennyand be careful where you step in The Adventures of Shrinkman
Above all, be sure to discover How to Hug
This voucher will be automatically applied to your Amazon.com account; please do not place your Kindle ebook order until you have received an e-mail from Amazon Local confirming that your voucher has been applied. The credit may not apply to orders placed in the Amazon Kindle Store prior to the receipt of this confirmation
Voucher will expire if not used toward a qualifying book purchase from Amazon.com by 11:59 P.M. PST May 31, 2013
Remember that you do not have to have a Kindle to get all these awesome FREE e-books. You can read them on most of the devices that you already have! Go HERE to get the app!
If you are interested in Kindles: