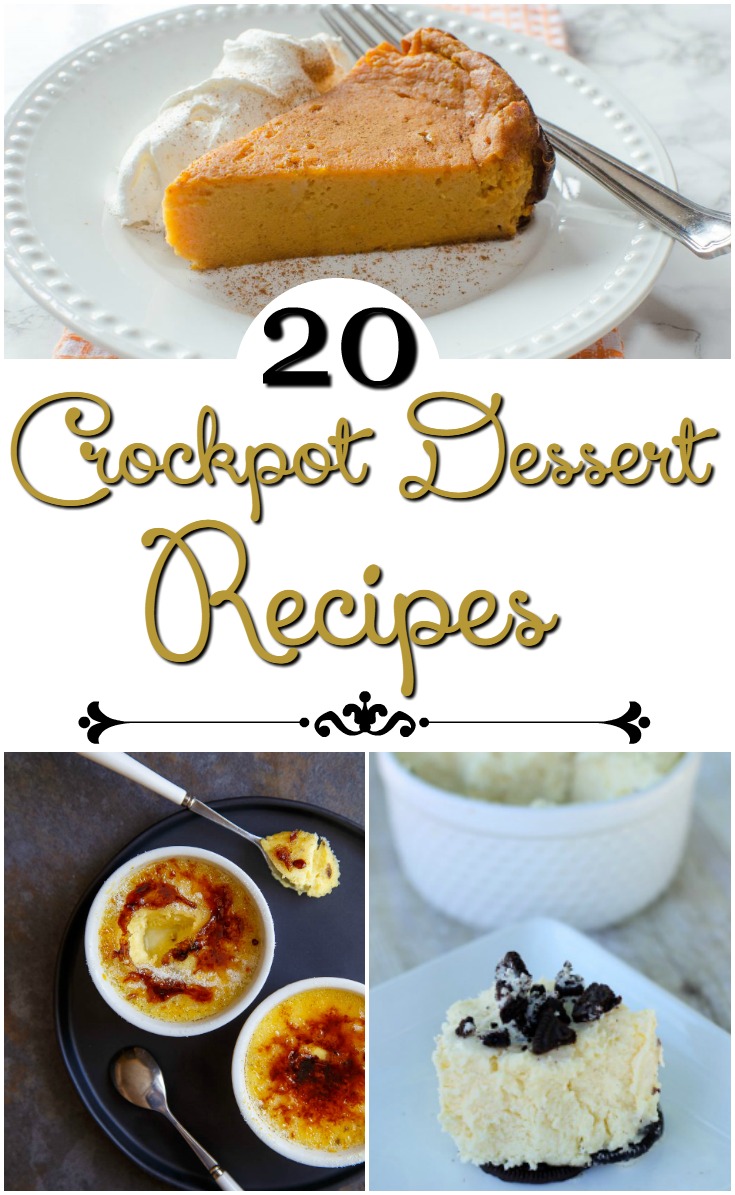 Using the crockpot year round doesn't have to just be for dinners, you can create some mouthwatering desserts for all seasons and reasons these days. Recipes can range from 2 hours to 4 hours or more to complete from start to finish but let me say it's well worth the wait on all of these dessert recipes we are featuring!
1. Crockpot Cherry Dump Pie Recipe from The Crock Pot Ladies. This super easy recipe serves 8 and takes just 10 minutes to prep with three ingredients.
2. Easy Crockpot Apple Spice Dump Cake Recipe from Tammilee Tips
3. Slow Cooker Blackberry Cobbler from Todays Creative Life. While this recipe does take a bit longer than others to make, just by looking at the pictures you know it's worth it!
4. Crockpot Turtle Brownie Recipe from Passion for Savings. This recipe takes around 4-½ hours to complete and can be adjusted with ingredients (take out the nuts)
5. Crockpot No Bake Cookies from The Country Chic Cottage. This is a set and nearly forget way to make these awesome cookies BUT make sure to follow the directions on No Mixing!
6. Crockpot Chocolate Cherry Nut Cups Recipe from Flour on My Face. This is a great recipe for parties and love the way she puts them in decorative gift boxes for the holidays.
7. Crockpot Nutella Cheesecakes from It Is A Keeper. Combine 3 of the favorites things, nutella, crockpots, and cheesecake! This recipe calls for mason jars but will make 6 jars full.
8. Crockpot Pumpkin Caramal Cake Recipe from The Gracious Wife. This one recipe makes enough for 10-15 people in one go! Takes just over 4 hours to complete (allow a few minutes to cool before serving)
9. Easy Crockpot Dulce de Leche Recipe from Thrifty Jinxy. While this isn't an entire dessert by itself you can use it on a number of desserts so we wanted to include it. This one recipe makes 4 cans which you can then separate into smaller containers!
10. Slow Cooker Coconut Cake Recipe from Living Sweet Moments. Recipe calls for 4 hour crockpot time but serves 8. It also includes a oven set of directions in case the crockpot version doesn't work out.
11. Slow Cooker Creme Brulee from Dessert For Two. This recipe takes just over 2 hours so a quick dessert in the crockpot. Make sure to use the cirrect dishes for this one.
12. Slow Cooker Banana Bread with Brown Sugar Sauce from Averie Cooks. Love a good and easy bread recipe, this recipe makes 8 servings. Quick cooking with just a 1-½ to 2 hour cook time in the crockpot.
13. Crockpot Rocky Road Chocolate Cake Recipe from White Lights on Wednesday. Super easy recipe to follow and includes shortcuts with some items to buy pre-made to make it easier and faster to complete. Serves 6-8 people.
14. Slow Cooker Brownies from Please Note Paper. Gotta love a recipe that tells you the "fails" they did so you avoid them, this recipe calls for 4-½ hours in the crockpot.
15. Crockpot Cheesecake with Oreo Cookie Crust Recipe from Freebie Finding Mom. Combine the love of Oreo Cookies and Cheesecake with this awesome recipe, calls for cooling fridge time as well as 2-½ crockpot time.
16. Slow Cooker Pumpkin Spice Lava Cake Recipe from Love Bakes Good Cakes. While this may be a seasonal dessert if you love your pumpkin spice then this recipe makes 12 servings!
17. Slow Cooked Apple Sauce from Leelalicious Just 4 simple ingredients for this recipe and awesome way to use a ton of apples if you hit an orchard soon. Cooking time just over 4 hours.
18. Strawberry Cobbler in the Slow Cooker Recipe from Little Blog in the Country. Use up strawberries and make this is in just 2-½ hours in the crockpot! Easy recipe to follow.
19. Crockpot Chocolate Bread Pudding Recipe from Passion for Savings. Recipe calls for 3 hours total crockpot cooking time.
20. Crockpot Pumpie Pie Pudding Cake Recipe from Tammilee Tips This delicious year round dessert takes just 3 hours to cook in the crockpot!