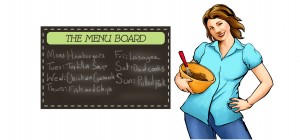 Happy Presidents Day! If you have kids at home today, make sure to take advantage of the printable shopping list and don't stress yourself out this week trying to get dinner on the table. Print the list, see what you have already at home and take a trip to the store today. Then post a schedule on the fridge so you already know each day what meal you are having and all the ingredients are already bought. This way it is easier to avoid making quick trips to the store that cost you more money.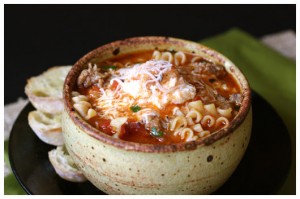 Monday – Lasagna Soup from A Farm Girls Dabbles.  I saw this on Pinterest and added it a few weeks ago to our menu plan. We fell in LOVE! I doubled it and we had it for lunch all week long. it is AWESOME!
Tuesday – Turkey Burgers – From The Girl Who Ate Everything. We have turkey burgers every now and then. We also like to eat them on the sandwich thins. We actually eat almost all our burgers on sandwich thins now. They are just the right amount of bread. We are really trying hard to cut out the bread lately.
Wednesday – Simple Sour Cream Chicken Enchiladas – To make this dish much easier, I just buy a rotisserie chicken and shred it. This saves a bunch of time. OR put the chicken in the crock pot and have it really cooked and shred easy to use! Plus, Paul and I will eat this for lunch Thursday and Friday.
Thursday – Slow Cooker Gingered Beef and Vegetables – From Fitness Magazine. Don't let the ginger part scare you or make you think it is a difficult recipe . It isn't at all. You can buy the meat already cubed and surprisingly my kids like it 🙂 We serve over brown rice and it is a really filling meal.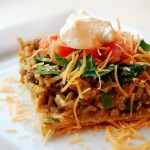 Friday – Healthy & Hearty Taco Casserole – From The Shrinking Kitchen. This looks really good, easy and I have everything for it! I can't wait to try it!
Simple Sour Cream Chicken Enchiladas
1 lb chicken breast , diced
1 medium onion , chopped
1 tablespoon vegetable oil
64 inches flour tortillas , softened
1 ½ cups grated monterey jack cheese or 1 ½ cups Mexican blend cheese , divided
¼ cup butter
¼ cup flour
1 (15 ounce) can chicken broth
1 cup sour cream
1 (4 ounce) can chopped green chilies
Directions:
In frypan, cook chicken and onion together in oil over medium-high heat until chicken is just done.

Divide cooked chicken evenly between 8 tortillas; add 1 1/2 tablespoons cheese to each tortilla.

Roll enchiladas and place seam-side down in 9×13″ baking dish that has been lightly sprayed with no-stick cooking spray.

Melt butter in a medium saucepan; stir in flour to make a roux; stir and cook until bubbly; gradually whisk in chicken broth then bring to boiling, stirring frequently.

Remove from heat; stir in sour cream and green chiles; pour sauce evenly over enchiladas.

Top with remaining 3/4 cup cheese (baking dish may be double-wrapped and frozen at this point) and bake at 400° for 20 minutes until cheese is melted and sauce near edges of baking dish is bubbly
::PRINTABLE LIST::