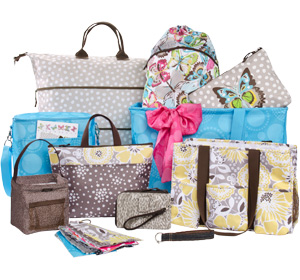 Twice a year Thirty-One holds an outlet sale! We typically see one in December right after Christmas and the other moves around a little bit more. The next sale starts on 12/26/13 at 7pm CST! That's different from the normal am hour we've seen in the past!
They have amazing discounts on limited stock items during these sales and you can often score a couple items shipped to your home for the price of one normally.
Thirty-One Outlet Sale
You can not buy Thirty-One here at MyLitter, you must visit my Thirty-One independent consultant page to see the sale and make your order.
How do I shop the Thirty-One Outlet Sale?
There are three ways to shop the sale. You can:
Click on the link in your email from Thirty-One.
Go to the MyThirtyOne.com website for the link to the sale.
Go to ThirtyOneOutlet.com. You can click on "Find My Consultant" and use 280467
for the consultant number.
Thirty-One, a company that sells stylish and functional bags, purses, and totes, is having an amazing outlet sale in December 2013! The products offered in this sale are deeply discounted styles from past catalogs and are only available while supplies last. Some products will be up to 70% off retail! This is an incredible opportunity to get some great quality purses, bags, totes, and accessories for yourself or as gifts! Shipping is a flat rate (last time it was $8.00).
Thirty-One is one of my favorite companies that when there is a sale I buy stuff!! A few years ago someone posted a sale, I thought the stuff was cute and I ordered a few lunch bags with my girls names on them. We are STILL using the bags 3 years later! They have held up that long in the lunch room and in backpacks and on the floor of my suburban!
We love this sale for end of the year teacher gifts. Go to Thirty-One to shop now.