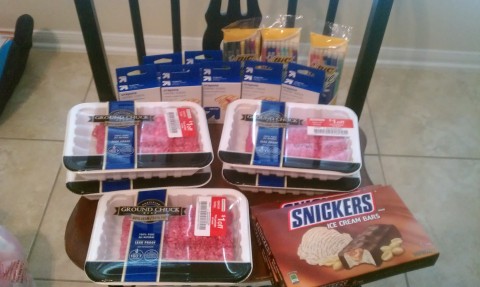 I have been posting a lot of Kroger trips this week, and wanted to show you a shopping trip that reader Amber had to target last night.

From Amber: Just wanted to show you what I was able to get a target this week for only $9.63. 
I only paid $1.00 for all the crayons and the pencils. Used the the meat was on sale for$2.43 a pound, but had a $1 off coupon on it.
I got 5lbs, but a warning is that it only took off for 4. I got the Ice cream for $.61 cents each. Being hot in Texas and expecting I wanted snickers ice creams for weeks now
was super excited to get it.
I would tell you what my savings was but I have lost the receipt.  Which stinks for me ask I had a few errors I noticed on the receipt that I wanted to take to customer service, and have fixed like clearance not ringing up right, and coupons not being scanned. I was going to talk to customer service right then, but didn't want my ice cream to melt.
Check out more deals at Target: