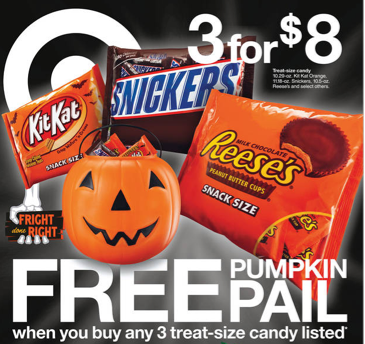 Ok, it is time to get into Target today or tomorrow before the sale switches over! You have the free Wasa Crackers I posted about and a bunch of other awesome deals that all end Saturday night! There is a special until tomorrow Buy any 3 participating Treat-Sized Candy Bags 3/$8 + get a FREE Pumpkin Pail.
Check out all the Target deals HERE
:: DEAL IDEA:: 
Buy 3 Snickers Fun Size Bags 11.18oz 3/$8
Buy 1 Pumpkin Pail $1 (FREE with promotion)
Total = $8
Use $2.00 off 3 SNICKERS, TWIX or BITES Brand Bags
Or use the $1.50/3 Mars Chocolate Halloween Bags
Or $1.00 off 2 M&M'S, TWIX, SNICKERS FUN SIZED Bags
Plus, use the $1/2 Snickers candy 11.18-oz. fun-size Target store coupon found here
Plus, use the 10% Off Mars Chocolate Halloween Candy Target Cartwheel offer (will deduct $0.70)
Total:  as low as $1.43 per bag + a FREE Pumpkin Pail!