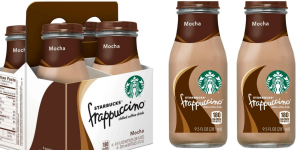 Right now at Target you can pick up (5) 4-Packs of Starbucks Frappuccinos and get back a $10 Target Gift Card!  They're part of the Spend $25 promotion going on this week – here's how this looks:
Add (5) Starbucks 4-Packs to your cart  (You can only order 4 of the same flavor, fyi)
Checkout and a $10 Target GiftCard will be added to your cart
Total will be $25 + FREE Store Pickup!
Details, not copied from Target.com
You'll save an additional 5% when you use your REDcard – so sign up HERE if you haven't already (mine is a REDcard Debit card – no credit card bill for me)!
Plus Target is offering FREE SHIPPING the whole Holiday Season!
Making the most of your shopping this year? Don't forget to: 
Compare prices to Amazon (Amazon may have lowered their price to match this Target deal since we posted it!  They frequently change prices to match the major retailers)