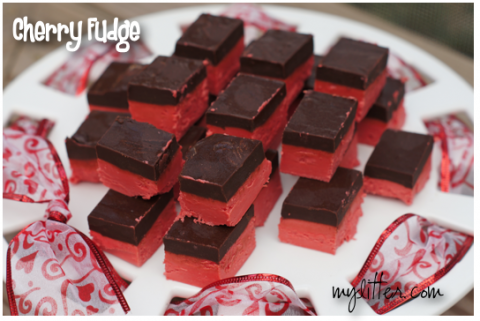 I had a few bags of cherry chips left over from my King Soopers Cookies last week, and wanted to use them up for Valentines day. On the bag was a recipe that I changed up a little bit to make some pretty Cherry Fudge!
Cherry Chocolate Fudge
Ingredients
1-1/2 teaspoons plus 3/4 cup butter, divided
3 cups sugar
3/4 cup heavy whipping cream
1 package (10 to 12 ounces) cherry chips
1 jar (7 ounces) marshmallow creme
Directions
Line a 13-in. x 9-in. pan with foil and grease the foil with 1-1/2 teaspoons butter; set aside. In a heavy saucepan, combine the sugar, cream and remaining butter. Bring to a boil over medium heat, stirring constantly. Cook and stir for 4 minutes.
Remove from the heat; stir in cherry chips and marshmallow creme. Pour into prepared pan.
Make Chocolate Topping using 6 ounces semisweet chocolate, chopped 1 tablespoon (14 grams) unsalted butter. In a heatproof bowl over a saucepan of simmering water, melt the chocolate and butter. Spread over the fudge and refrigerate for about 30 minutes or until the chocolate glaze starts to dull.
Refrigerate for 1 hour or until firm. Using foil, lift fudge out of pan. Discard foil; cut into 1-in. squares. Store in an airtight container in the refrigerator. Yield: about 3 pounds.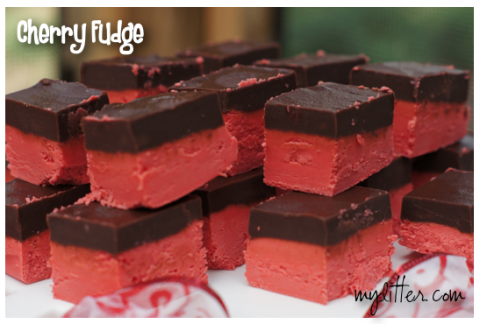 Pin It
This post may contain affiliate links.