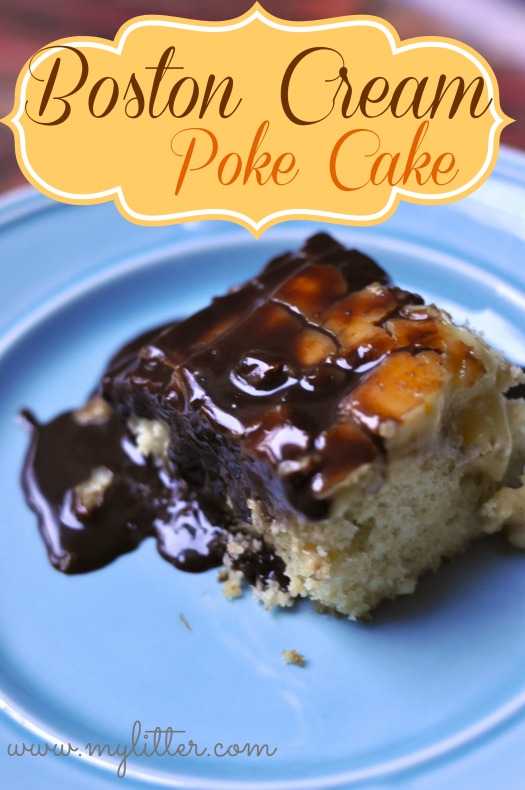 For dessert the other night I made a Boston Cream Poke Cake for my husband. His very favorite dessert is a jello poke cake and so I though this would be perfect!
Traditional Boston Cream Cake is 2 layers of yellow cake with a cream filling in the middle topped with a chocolate frosting. It can be hard to get it to hold together correctly. That is why the poke cake is perfect.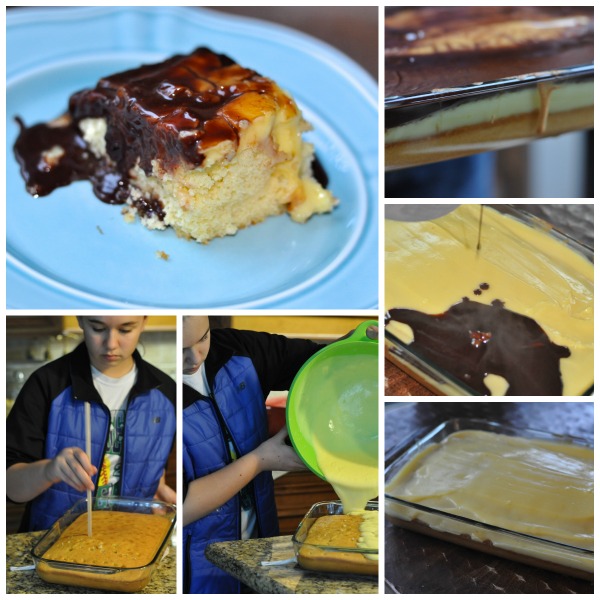 You are going to take a yellow cake mix, make it according to the directions. When it comes out of the oven, you are going to poke holes all over the cake. Now, don't quite poke all the way to the bottom of the pan, the cream leaks out.
Then you will make a box of vanilla pudding, pour it over the top and stick it in the fridge until it is cold. The chocolate topping can be done 2 ways. The best is to make it from scratch, or you can actually take a can of chocolate frosting and heat it in the microwave for about 25 seconds and pour over the top. I prefer the homemade, but if you are in a hurry that might work in a pinch.
[print_recipe]
Boston Cream Poke Cake
Ingredients
1 box
Butter Recipe Yellow Cake Mix
2 small boxes
French Vanilla Pudding Mix
1 tub chocolate frosting
Directions
Bake cake as directed on the box.
Prepare the pudding as directed on the box.
While the cake is still warm, use the end of a wooden spoon to poke holes randomly through the cake.
Spread the pudding over the cake, pushing it into the holes.
Refrigerate for one hour.
Remove the lid and seal from the frosting and microwave for about 30 seconds, until the frosting can be poured.
Spread the frosting over the cake and refrigerate overnight.
If you choose to make your own chocolate frosting:
1 1/2 Cups Sugar
3 tbsp. Cornstarch
4 1/2 tbsp. Cocoa
1 1/2 Cups Boiling Water
1 tsp. Vanilla
1 tbsp. Butter
Combine the sugar, cornstarch, cocoa and boiling water in a large microwave safe bowl, mixing well to combine.  Microwave on high for 3-4 minutes, stirring occasionally.  The mixture will thicken and rise as it is cooking. Once the mixture has thickened, remove it from the microwave, stir in the vanilla & butter.  Stir the mixture well before applying to the cake after it has cooled a bit.
[/print_recipe]
More Amazing Recipes:
Texas Sheet Cake Recipe – Chocolate Buttermilk Cake
Malted Chocolate Ovaltine Cookie