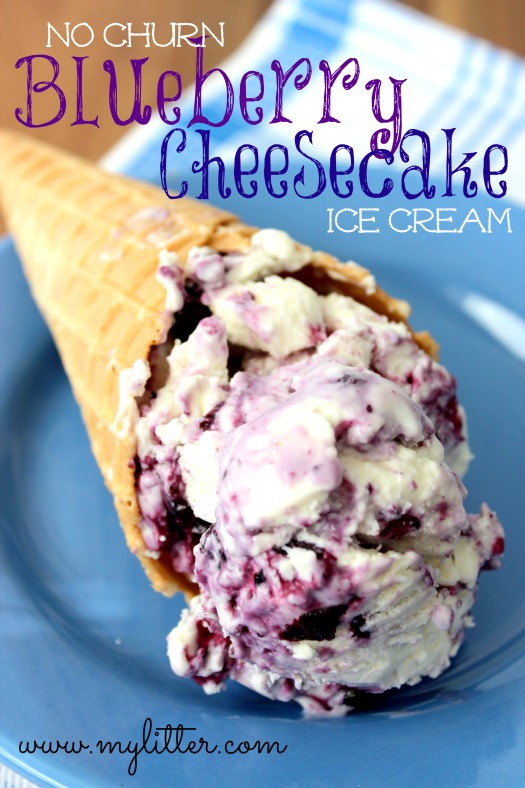 If you have not tried a no-churn Blueberry Cheesecake Ice Cream recipe before, or any no churn recipe before you are missing out BIG TIME!
Those of you where it is still snowing, we are hitting 80 and you will not be jealous this August! We ail be 118 and you will be a nice 80. It just means we started making ice cream already 🙂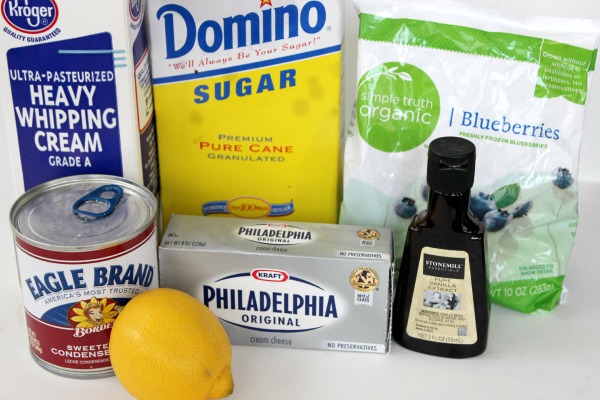 If you do NOT have an ice cream machine, don't stress, you don't need one with this method!
Cook blueberries, sugar, and lemon juice and salt over medium high heat. Bring to a boil, ensuring berries crush and release juice. Allow to boil until it starts to thicken. Remove from heat and allow to cool completely then chill in refrigerator for about 1 hour.
In a large bowl, beat cream cheese until creamy and smooth. Using a electric whisk, add condensed milk and vanilla, whisking until smooth Add in vanilla extract and heavy cream. Whisk on high speed until soft peaks form. Spread half of this mixture into a loaf pan. Spoon chilled blueberry sauce over the whipped mixture. Top with remaining cream mixture, spreading evenly.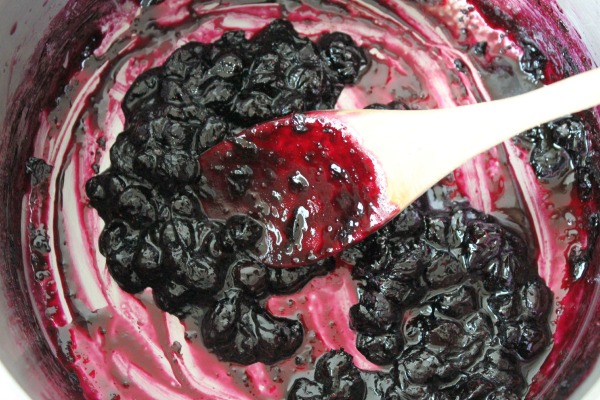 Using a knife, drag or swirl the blueberry mixture into the cream mixture.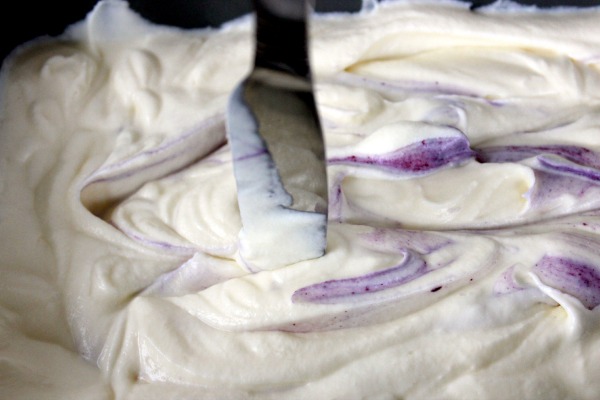 Now you let it freeze and scoop out like you would any other ice cream!
[print_recipe]
No Churn Blueberry Cheesecake Ice Cream
INGREDIENTS
2 cup Heavy Whipping Cream
14 oz Sweetened Condensed Milk
8 oz softened Cream Cheese
2 tsp Vanilla
2 cup thawed Frozen Blueberries
3 tbsp Sugar
2 tbsp Lemon Juice
DIRECTIONS
Cook blueberries, sugar, and lemon juice and salt over medium high heat.
Bring to a boil, ensuring berries crush and release juice.
Allow to boil until it starts to thicken.
Remove from heat and allow to cool completely then chill in refrigerator for about 1 hour.
In a large bowl, beat cream cheese until creamy and smooth.
Using a electric whisk, add condensed milk, whisking until smooth
Add in vanilla extract and heavy cream. Whisk on high speed until soft peaks form.
Spread half of this mixture into a loaf pan.
Spoon chilled blueberry sauce over the whipped mixture.
Top with remaining cream mixture, spreading evenly.
Using a knife, drag or swirl the blueberry mixture into the cream mixture.
Cover with foil and freeze for 6 hours or until firm.[/print_recipe]