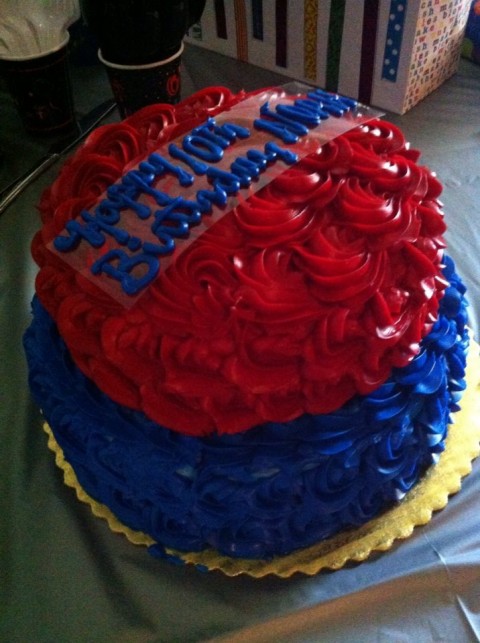 This is a status update from a good friend of mine Charity. I was FLABBERGASTED and had to share what happened to her at Randalls bakery the other day!
* I will admit that Randall's has awesome cakes, they taste amazing, but listen to this story….
From Charity:
"So evidently I need to be in the wedding cake business. The cake pictured here is a new cake featured at the Randalls bakery for $22.99. It's called the Ombré Cake. In the display case there is an all-red cake and an all-blue cake. When I was ordering a cake for Noah's party I pointed to the Ombré Cake and said that I wanted that cake but in white and without the swirly frosting, just very plain. 
After several consultations with the bakery manager I was told that the same cake that is $22.99, if ordered in white frosting, will suddenly become $179.99 because it is now called a wedding cake. Are you kidding me?? I thought at first that they were joking, but alas, they were not. This may just be the most ridiculous thing I've ever heard. And as you can see: we ordered the red/blue cake."
I was just completely SHOCKED! Talk about taking advantage of someone planning a wedding!
What do you think?