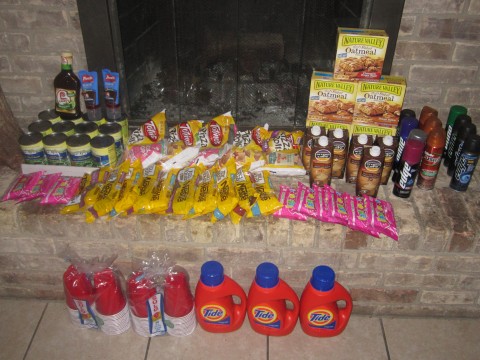 Check out Britt's Kroger Mega Event shopping trip! She found a clearance deal at her store that I am so totally jealous of!!! Nestle Morsels for only $.99 a bog! WOW!! Stock up! These also freeze well…
From Brit:
"I had a pretty good trip to Kroger today that I wanted to share! I wasn't planning on spending so much, but I came across a great deal on Nestle Morsels for .99 a bag!! Normally $2.99! Wow!"
Spent $45.39
Saved $146.83
Got back $4.00 in catalinas
77% Savings!
This is what she bought:
3-Tide Detergent- $4.99
Used     $3/3- 9/1 P&G
2-Solo Cups $1.49
Got back $1.00 Catalina (when you buy 2)
5-Totino's Pizza Rolls $1.98
Used   5  .35/1- 8/4 SS
5-Nature Valley Oatmeal $1.64
Used   5  .75/1- 7/28 SS & Got back $3.00 Catalina (when you buy 5)
6-Oregon Cafe Latte $2.49
Used   6  $2.50/1 IPQ = Makes them free!
8-Edge Shave Gels $1.50
Used 4 $1/1 -8/18 SS & 2 BOGO Edge Shave 
2-French's Flavor Infuser $1.49
Used $1/1- 8/18 SS
3-Gillette Shave Gels $1.99
Used 3 $2/1 -9/1 P&G
9-Boogie wipes Blasters .99
Used 9 $1/1 -8/25 SS
1- Lawry's Marinade .49
No Coupons
12-Allen Veggies $3/1
No Coupons
9-Nestle Morsels .99
No Coupons
See more Kroger Mega Event Deals: