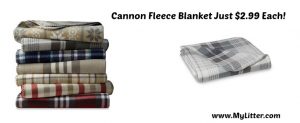 Make sure you sign up with Shop Your Way Rewards before you grab this amazing deal on the Cannon Fleece Blankets for just $2.99 each!  These are regularly priced at $7.99!
I love these blankets for keeping around in the living room and they always make great gifts!  Get the Fleece Blankets HERE
if you are looking for an inexpensive donation item, these are a fantastic item to take to your local shelters or to give to needy people that you may see.
Why join Shop Your Way Rewards?
100% FREE to join
Get Free Shipping on $10+ Purchases (First 90 days)
Access to Exclusive Deals
Receive Bonus Shop Your Way Points
Get FREE Money!
You can sign up with Shop Your Way Rewards and choose me as your Personal Shopper HERE.