You might have noticed that this Kroger Mega Event is a little different than the past Mega Events. It is a Daytona 500 event, you get $3 off when you buy any 10 of the specially marked items. Then, after checkout you get $2 more dollars in catalina's to spend on your next trip.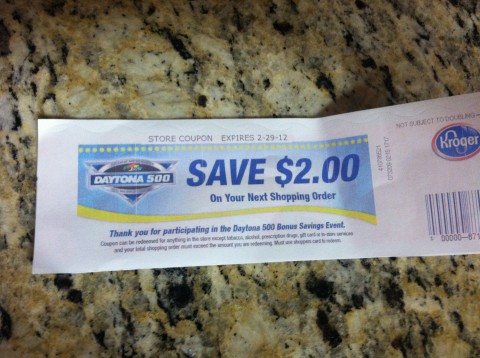 This is what the catalina looks like (above) to use on your next shopping trip. If you have ever watched my Kroger Mega event video where I go shopping it was the same kind of sale. I got about $30 back in catalina's at the end of my trip.
The amount that you are getting back is more than normal, but I don't like taking the chance that I will lose the catalina's before I can use them again, and I can't always turn around and use them right away. However, last time the catalina's said you had to use them 1 per transaction. This time thankfully, you can use as many as you have on a transaction.
This is what to do to make the most of this event:
Go HERE and load your Kroger card with eCoupons
Go HERE and take a look at the weekly Kroger matchups
Go HERE and print any necessary coupons
Print your list off and/or circle all the items that you want to buy
When shopping look for the Daytona Mega Event tags
Add Daytona ME items to your cart in multiples of 10. You do NOT have to have 10 of the SAME item, you can mix and match.
Check out, hand them your Kroger card. Make sure to hand over your coupons.
After you check out when you get your receipt, you will get the $2 catalina's back.
In this video Kroger doubled my coupons. They are NOT doing this anymore. This video is a year old.