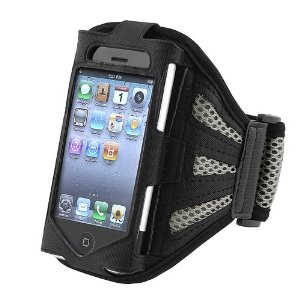 Here is a ridiculously low price on a iPhone 4/4s Sport Workout Armband for $2.38 + free shipping!
Technical Details
Exercise your right to a great soundtrack with this ultimate workout duo: an iPhone®/iPod touch® compatible SportBand with Case.
This durable, lightweight armband case keeps your iPod® secure and protected. Unique design allows easy access to all functions without having to remove the skin.
Multiple layers of padding offer the best in protection.
Heavy duty see-through faceplate allows you to view and access your iPod® while still in the pouch. Armband is compatible with upper arm circumference: 10 – 15 inches. Color: Black/Silver,Size: Perfect Fit.
Accessory ONLY, iPhone® not included."Apple® iPod®, iPhone®, or iPad® are registered trademarks of Apple, Inc. Products are Apple® compatible and not endorsed by Apple, Inc.
Go HERE to take a look!