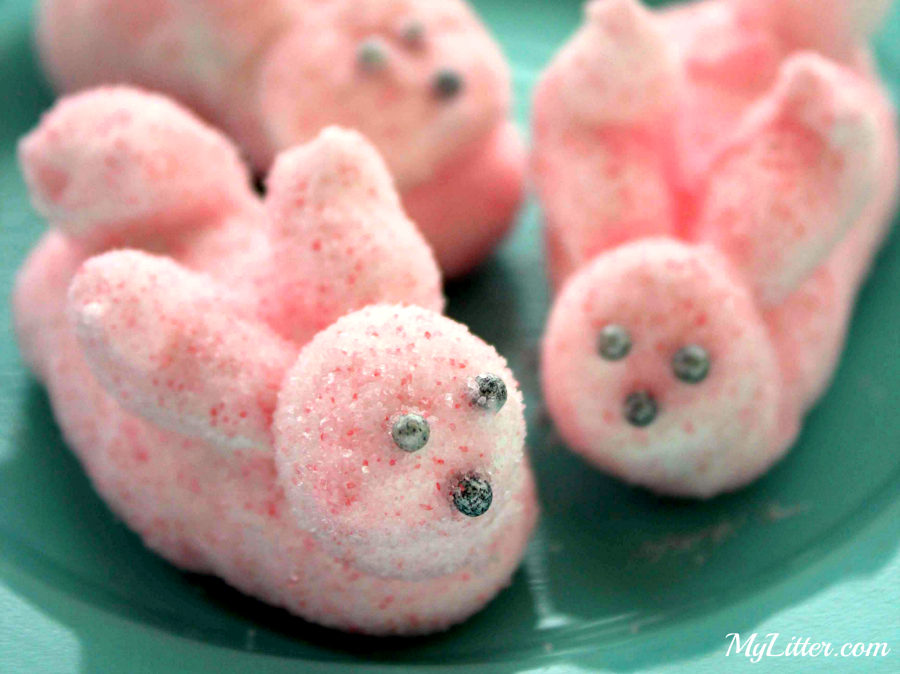 Who doesn't just love Peep Marshmallows?!? They are iconic to the traditions of Easter and these Homemade Marshmallow Peeps are seriously amazing! You really only need 4 simple ingredients and a little patience. Beware although they do make a sticky mess they will easily become a favorite Easter project treat with the kids! Even better because you are making them yourself you know exactly what's in them and can stay the clear of nasty unnecessary preservatives.
INGREDIENTS
DIRECTIONS
Put 1 cup sugar in a jar with a lid. Add 2 drops food color. Put on lid and shake well. Pour 1/3 cup water in stand mixer bowl. Sprinkle gelatin over water and allow to sit.
Combine remaining water and remaining sugar in a pan stirring over medium heat until dissolved. Stop stirring and boil until syrup reaches soft ball stage (about 240 degrees). Add syrup to gelatin mixture, and slowly whisk together by hand for a few minutes to cool.

Place bowl in stand mixer with whisk attachment and whisk until peaks form and mixture holds shape. Transfer to piping bag with medium round tip. Sprinkle bottom of a raised edge cookie sheet with colored sugar and shake back and forth to make a thin layer.

Pipe an oval shape onto sugar to form a body. If mixture clings to piping bag wet fingers and pinch to separate. Use wet fingers to smooth any peaks.

Pipe head onto one end and a round tail onto other. Use wet fingers to separate or smooth.

Pipe ears from head towards back.

Place decorating balls for eyes and nose.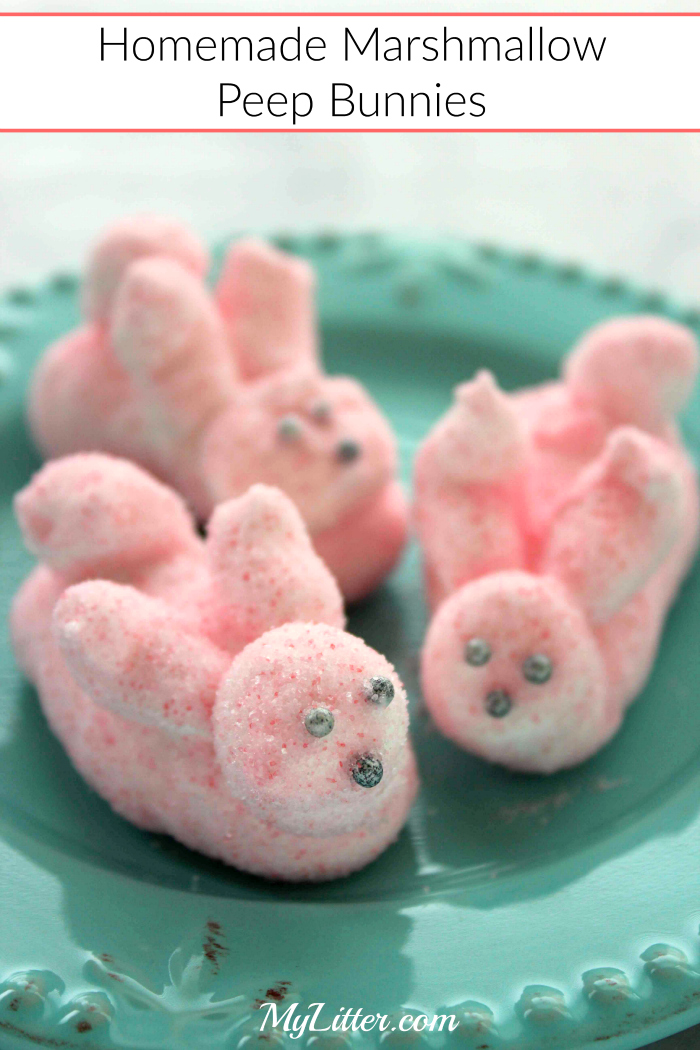 Sprinkle sugar over bunny to color and to reduce stickiness. Gently shake to distribute sugar over bottom and repeat.
Work quickly before marshmallow firms up in piping bag. Allow to sit and firm.
More Fun Easter Recipes:
Easter Carrot Treat Bags + Printable Tags
Chocolate Covered Strawberry Carrots