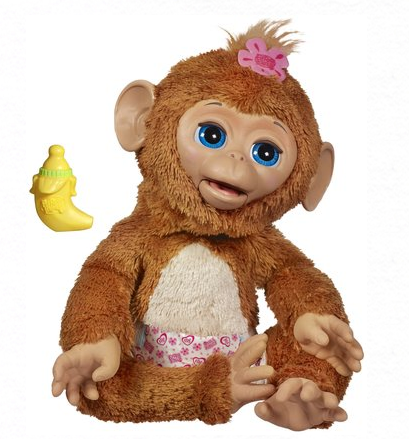 Heads up! This is supposed to be one of the HOTTEST toys this season. The FurReal Friends Monkey. Remember the horse last year? Yeah well, I do, because it was all one of my kids was asking for and I never bought it because it was not selling for less then $75.
This is what Creedence on Facebook had to say:
Just purchased the new Furreal Friends Cuddles My Giggling Monkey from yoyo.com for $50 shipped. Use new customer coupon code yoyo25 for 25% of their sale price of $62.29. Cheapest I have seen thus far…cheaper than the sale at Target + 5% Redcard or Amazon or Toys R Us (same sale price as Target). Hope didn't shop too early for this gift…hate when I see things cheaper later-especially when I cringed spending the $50 on a glorified stuffed animal. But it's my 4 year old's "wow" gift so…
If you want to check out YoYo, go HERE and in the search type "FurReal" you will see the monkey. At check out use coupon code yoyo25 to get 25% off your order.