I get tons of questions all the time about is it ok to sell your stockpile? The answer is NO, for a few different reasons. I am sure if you sell your sister a bottle of shampoo for $.50 because she doesn't want to go to the store, you are not committing the crime of the century. But, there are a lot of reasons why you should not be selling itmes online, at garage sales and reselling to friends. Honestly, that was my example, I would just give my sister a bottle
Here are a few: 
You don't have a resale license or charging tax (I am assuming)
Coupons state "not for resale" – That is pretty clear
Check out what the coupon information center has to say about it: 
Reselling Stockpiles. Coupons are intended to give individual consumers a good deal, not provide a method for people to set up unauthorized grocery stores or flea markets in their garages, basements or backyards. Such sales usually violate the terms and conditions of the coupons themselves and may be in violation of local health codes. As a consumer, do you really want to buy a product that has been stored in a stranger's basement for weeks, months or even years?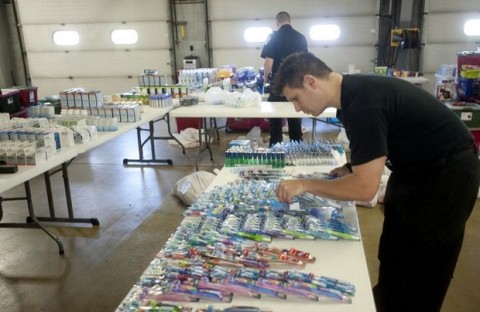 Still thinking about it? Check out what happened when a couple in cahoots with a Walmart cashier was caught selling items out of their home… Oh, and committing coupon fraud and basically stealing from Walmart to sell items from their "black market store" the police call it.
"This is the result of a months-long investigation with our department working hand-in-hand with Wal-Mart security, who did an excellent job on this case," Johnston said.
The ring worked with a cashier and used coupon fraud and deceptive price switching to bilk the W. Michigan Avenue store out of thousands of dollars. Detectives believe the merchandise, mostly personal care and hygiene products, was then sold on the black market. How much was sold before detectives busted the operation is not yet known, said Detective Sgt. Chris Boulter.
The unsold products, confiscated during two search warrants conducted Monday, now occupy most of a fire truck bay at the Blackman-Leoni Township Public Safety Station on Parnall Road. There are thousands of dollars in vitamins, razors and toothbrushes. Shampoo, shaving cream and deodorant are lined up in rows.
Read the rest of the story HERE.