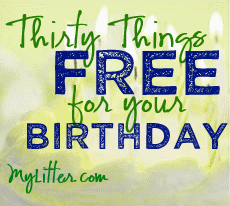 Who doesn't love free stuff? And what's better is getting a whole email inbox full of birthday freebies! Check out the offers below, many of them send you coupons and goodies when you sign up and send you freebies and coupons when you get close to your birthday every year.
Applebee's – Sign up for a free dessert for your birthday
Arby's – Free Roast Beef Sandwich with drink purchase when you sign up, they are also supposed to email something for your birthday, but can't confirm what
Atlanta Bread – Free Cookie on your birthday
Auntie Anne's – Coupon for BOGO pretzel – valid for 1 week before to 1 week after your birthday
Ben & Jerry's – Free Ice Cream
Bob Evans – Postcard for a free kid's meal for your child's birthday, NO expiration date.
Bruegger's – Free Cookie
Build A Bear – Birthday coupons
Burger King – Free Hamburger Kids Meal Coupon
Chili's – Free Brownie Sundae with Entree Purchase Coupon
Chuck E. Cheese – 20 Free Tokens for your child
Coldstone Creamery – BOGO One Scoop + One Mix In Coupon
Dairy Queen – BOGO Blizzard Coupon
Disney Movie Rewards – 100 Bonus Points
IHOP – Free Rooty Tooty Fresh N Fruity or equal free entree, no other purchase required – Sign up your children as well, they get the Rooty Jr Free
Krispy Kreme – Free Coffee and Donut
Logan's – Free Nutterbutter Fudgeslide w/entree purchase coupon
Macaroni Grill – $5.00 off at sign up, Free Dessert Coupon for birthday
Noodles & Company – FREE Bowl of Noodles Coupon, No other purchase required (not in Houston, but some TX locations)
Panera – Free Sweet or Pastry
Papa Murphy's - Free Cookie
Qdoba – BOGO Coupon on birthday, free chips & queso at sign up
Quizno's – Free Cookie
Red Robin – Free Burger, No other purchase required
Ruby Tuesday – Free Burger
 Ryan's/Fire Mountain – Free Mega Buffet
Sephora – Freebie – Usually a coupon for a free lip gloss or similar valued item
Sonic – Coupon for choice of free Slush, Tots or Drink
Steak & Shake – Free Double Steakburger with Fries, No other purchase required
Toys R Us – $3.00 off $3.00 Purchase coupon for your child
What other great birthday freebies have you scored?